Ferrari Finali Mondiali: 2019 Results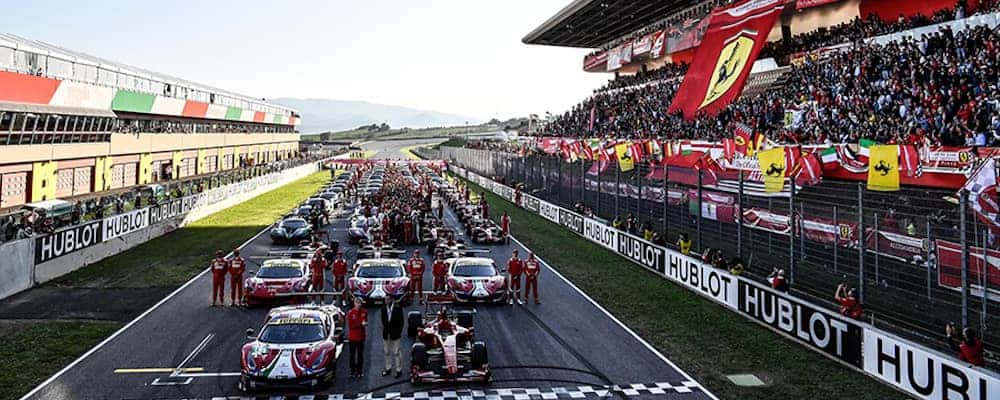 Finali Mondiali is the final race in the Ferrari Challenge Series, a series of races in which real Ferrari enthusiasts compete in their own Prancing Horses. The Ferrari Finali Mondiali in 2019 took place at the Mugello Circuit in Italy and it was an unforgettable race.
2019 Finali Mondiali Results
Ferrari Challenge Europe celebrated victories
Louis Prette (Trofeo Pirelli)
Emanuele Maria Tabacchi (Trofeo Pirelli Am)
Tani Hanna (Coppa Shell)
Henrik Jansen (Coppa Shell Am)
Ferrari Challenge North America celebrated victories
Cooper MacNeil (Trofeo Pirelli)
Neil Gehani (Trofeo Pirelli Am)
Mark Issa (Coppa Shell)
Brad Horstmann (Coppa Shell Am)
Lisa Clark (Ladies Cup)
Ferrari Challenge Asia Pacific celebrated victories
Philippe Prette (Trofeo Pirelli AM)
Makoto Fujiwara (Coppa Shell)
Andrew Moon (Coppa Shell AM).
The 3.259-mile Mugello Circuit track features one long straight and 15 turns to push drivers' skills to the limit, and is also the track that Ferrari uses for Formula One testing.
What is Ferrari Finali Mondiali?
Finali Mondiali is the culmination of worldwide racing events held as part of the Ferrari Challenge in Europe, America, and Asia/Pacific regions. Finali Mondiali is a unique gathering of these passionate Ferrari owners, and a chance for them to race in the Mugello Cricuit racetrack, which can accommodate 50,000 adoring racing fans.
Finali Mondiali races are split into two classes: Trofeo Pirelli (professional drivers) and Coppa Shell (amateur drivers); additionally, these classes are split into pro and amateur tiers. The final race of the event combines drivers from all classes and tiers into one magnificent race — the only limitation is the number of vehicles that can fit on the track!
Finali Mondiali is, at its heart, a celebration of the Prancing Horse: of the passion for driving, of the culture surrounding Ferrari vehicles, and the automotive innovation of the past, present, and future.
Learn More With Continental AutoSports Ferrari
Want to learn more about Ferrari racing, or even enroll in Corso Pilota Ferrari driving school yourself? Contact Continental AutoSports Ferrari to discuss the possibilities! While we're based in the Chicago area, we welcome enthusiasts from Indianapolis, Milwaukee, and across the United States.
More From Continental AutoSports Ferrari
Something can be considered good, great even, but at Ferrari, we don't strive to settle for great. We're always working to improve our vehicles and reach new peaks of never before seen technology and unmatched performance. And that's all come together in the very first road-legal XX car: the 2025 Ferrari SF90 XX Stradale. Which, luckily for Hinsdale drivers, is also available in the SF90 XX Spider version as well. Browsw New Ferrari Models Contact Us Not One But Two: SF90 XX Stradale and SF90 XX Spider There is not an inch of this vehicle, in either model, that doesn't…

After more than 50 years, Ferrari has returned to the 24 Hours of Le Mans, and what a way to make history on the event's 100th anniversary! Not only did Ferrari compete in this grueling and prestigious race, but the team came back victorious with a win led by Alessandro Pier Guidi and his teammates that shared the number 51 car: James Calado and Antonio Giovinazzi. This race is a symbol of endurance and persistence and the Ferrari Le Mans drivers showed up with all that and more in this exciting competition where drivers and vehicles alike, were tested for…

On the 7th of May 2023, down in Miami, the Grand Prix was held. Over the weekend, Ferrari's F1 drivers fought their hardest out on the track and put their blood, sweat, and tears into the race. Carlos Sainz walked away with fifth place while his fellow Ferrari driver, Charles Leclerc, ended up in seventh place. Unfortunately, the race didn't exactly end how either driver was hoping, but they resolve to continue working hard for the next races for a spot on the podium. Formula 1 and Ferrari More Ferrari News Timeline of the 2023 Miami Grand Prix At the…