Feature Friday | 70th Anniversary Ferrari California T
2018 Ferrari California T
One of One, Tailor Made, 70th Anniversary Special Edition
70 years after Ferrari became recognized as an official automotive manufacturer, they wanted to organize something special to immortalize their history and lineage.
In 2016 it was announced at the Paris Motor Show that 70 special edition liveries, honoring street and race cars from Ferrari's past, would be mirrored onto the contemporary model range of the F12berlinetta, the 488 GTB, the 488 Spider, the GTC4Lusso, and the California T. In total, 350 absolutely unique vehicles would be manufactured and tailor-made to honor 70 years of Ferrari excellence.
This 70th anniversary California T is modeled after the 1955 375 America Coupe Speciale, designed specifically Gianni Agnelli, Fiat's head man at the time. This vehicle was also one of Pininfarina's first designs working with Ferrari. This new combination of Ferrari, Agnelli, and Pininfarina produced a truly unique and exotic Ferrari 375 America Coupe Speciale.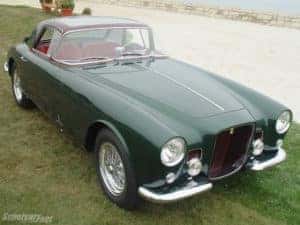 (Photo from Supercars.net)
This historic design is mirrored onto the 2018 California T, including the two-tone paint scheme of Verde British through the body and a Burgundy roof. This is paired with the classic red interior, as well as the silver striping down the center of the bonnet.
This One-Of-A-Kind collector's 70th Anniversary California T is for sale here at Continental AutoSports.
~~~~~
View it in our Inventory: https://www.continentalautosports.com/inventory/certified-used-2018-ferrari-california-t-rwd-2d-convertible-zff77xja9j0229046
More information on the 1955 375 America Coupe Speciale: https://www.supercars.net/blog/1955-ferrari-375-america-coupe-speciale/