Ferrari 360 Interior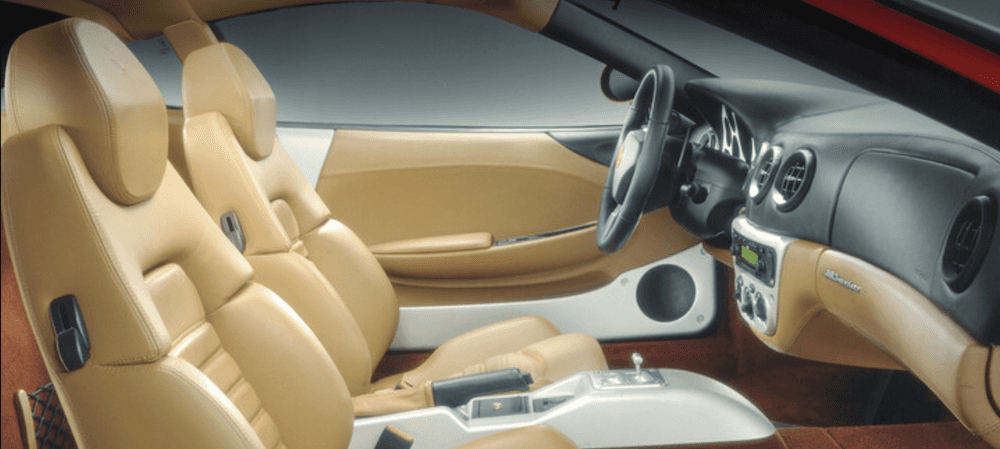 Few experiences match that of putting the Ferrari 360 in drive. The raucous hum of the V8 engine produces an enchanting roar and top speeds of over 180 miles per hour that will delicately raise the pulse of even the most experienced of drivers. Offered with your choice of Spider (convertible) or Berlinetta (coupe) bodywork, you'll be certain to turn heads and drop jaws when you take to the Indianapolis streets in your Ferrari 360.
While the scorching engine and exceptional good looks of this supercar are enough to convince any discerning driver to buy, the Ferrari 360 interior keeps pace, offering a similarly stunning set of amenities. In our Ferrari research guide below, you'll have the opportunity to study the Ferrari 360 seats, features, and more. Explore the Ferrari 360 design with our experts today.
Ferrari 360 Design: Interior Amenities & Styling
Although the Ferrari 360 seats only accommodate a driver and a passenger, the overall Ferrari 360 dimensions leave a lasting impression. Offered in both left and right hand drive form, the Ferrari 360 is a popular choice for automotive enthusiasts the world over. What's more, on the inside, you have the option to toggle between normal or sport mode to match your driving preferences.
The interior of the Ferrari 360 features a standard supple leather finish that will bring comfort to your weekend jaunts around Chicagoland. Behind the seats, you'll find a luggage void that offers space for suitcases or a set of golf clubs. Up front, the lower door panels, center console, and instrument cluster feature a stunning aluminum finish that pays homage to the emphasis placed on this lightweight metal in the body design. While no longer in production, this revolutionary model features the cutting-edge technology of its era, with a sophisticated sound system and an available CD player. If you've set your sights on this pre-owned masterpiece, you can work with our parts team to outfit the interior to match your needs!
Ferrari 360 Design: Modena & Spider Dimensions
Most commonly, you'll find the Ferrari 360 in the aforementioned Modena and Spider variants. The stunning Modena draws its namesake from the city of Modena, Italy, the birthplace of Enzo Ferrari. The Spider features a sleek drop-top that will allow you to enjoy an open-air driving experience while being noticed at every destination.
Along with the Modena and Spider, the Ferrari 360 design was updated into a handful of special editions. These include the Barchetta, Challenge Stradale, and a number of race models. To see if the Ferrari 360 suits your wishlist, review the dimensions for the Modena and Spider here:
Ferrari 360 Dimensions: Modena
Length: 176.2 inches
Width: 75.6 inches
Height: 47.7 inches
Wheelbase: 102.3 inches
Front Track: 65.7 inches
Rear Track: 63.6 inches
Weight: 2,843 pounds (dry)
Ferrari 360 Dimensions: Spider
Length: 176.2 inches
Width: 75.6 inches
Height: 47.7 inches
Wheelbase: 102.3 inches
Front Track: 65.7 inches
Rear Track: 63.6 inches
Weight: 2,843 pounds (dry)
Find Your Dream Ride in Chicagoland Today
While studying the Ferrari 360 interior online is a great start, nothing compares to taking the wheel of this premium exotic model for yourself. Now is the perfect time to arrange a test drive with our auto dealer near Chicago. You can sink into the supple leather of the Ferrari 360 seats and feel the full power of the muscular V8 engine for yourself. What's more, you can explore the Ferrari 360 dimensions to be certain that this exemplary mid-engine sportscar is right for you and your favorite companion. Don't hesitate for another moment. Get in touch with us today so you can head home to Milwaukee in your dream ride tomorrow!
More From Continental AutoSports Ferrari
What is the Ferrari KC23? Well, it's nothing more than the newest installment to the highly spectacular Ferrari lineup. Any true Ferrari follower would instantly recognize the seamless blend of Ferrari's Vision Gran Turismo concept and its Le Mans winning 499P that come together to make this vehicle. If you're a lover of all things bespoke, this may just be the car for you and your Hinsdale and Milwaukee drives! Browse More Ferrari InformationContact Us Ferrari KC23: Notable Features and Highlights While there's not much that we can tell you about the Ferrari KC23 engine specs and…

Only one thing is more thrilling than joining a race and experiencing the excitement of competing out on the track, winning. Second is great, but a manufacturer like Ferrari isn't satisfied until they're on the top step of the podium. Curious to know more about what happened at the race? Take a look below and we'll fill you in on all the hot details. New Ferrari ModelsContact Us Scuderia Ferrari For the Win Even though it's not number one, the Ferrari drivers should be filled with nothing but pride for their thrilling performance at the 6 Hours of…

Something can be considered good, great even, but at Ferrari, we don't strive to settle for great. We're always working to improve our vehicles and reach new peaks of never before seen technology and unmatched performance. And that's all come together in the very first road-legal XX car: the 2025 Ferrari SF90 XX Stradale. Which, luckily for Hinsdale drivers, is also available in the SF90 XX Spider version as well. Browsw New Ferrari Models Contact Us Not One But Two: SF90 XX Stradale and SF90 XX Spider There is not an inch of this vehicle, in either model, that doesn't…