Ferrari 488 GTB Interior Highlights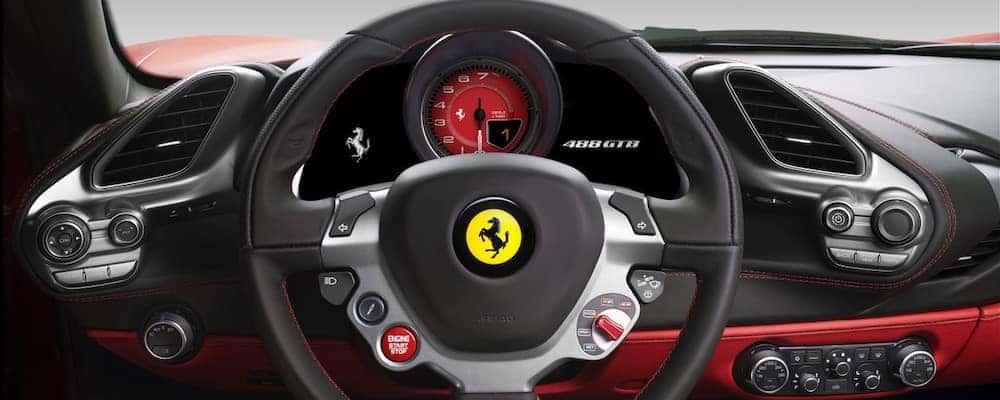 The Ferrari 488 GTB is many things: a stunning supercar inspired by the 308 GTB, a purebred performer capable of reaching a top speed of 205 mph, and, perhaps most surprisingly, a spacious and comfortable vehicle. That's right: the Ferrari 488's interior showcases that this Prancing Horse has much more to offer than just gaudy performance numbers and incredible specs.
Ferrari 488 Interior Design
The 488's cabin has been designed to maximize comfort while emphasizing the car's raw capability. This becomes apparent just by looking at the steering wheel: the functions that aren't directly accessible from the wheel are situated on wraparound satellite pods within easy reach of the driver, while the air vents take their design cues from military jet air intakes.
The look is classic Ferrari: a horizontally compact dashboard, a clear separation between dashboard and tunnel, and handcrafted materials throughout. Intuitive compartments are situated throughout the inside of the 488 to maximize cargo space. This berlinetta's seats have a fixed headrest, while the door panels feature an ergonomic armrest. Adding to its effortless functionality, the 488 GTB is the first Ferrari to have come equipped with keyless start.
All together, the design thrust of this Prancing Horse exudes elegance and sportiness while also maximizing practical use.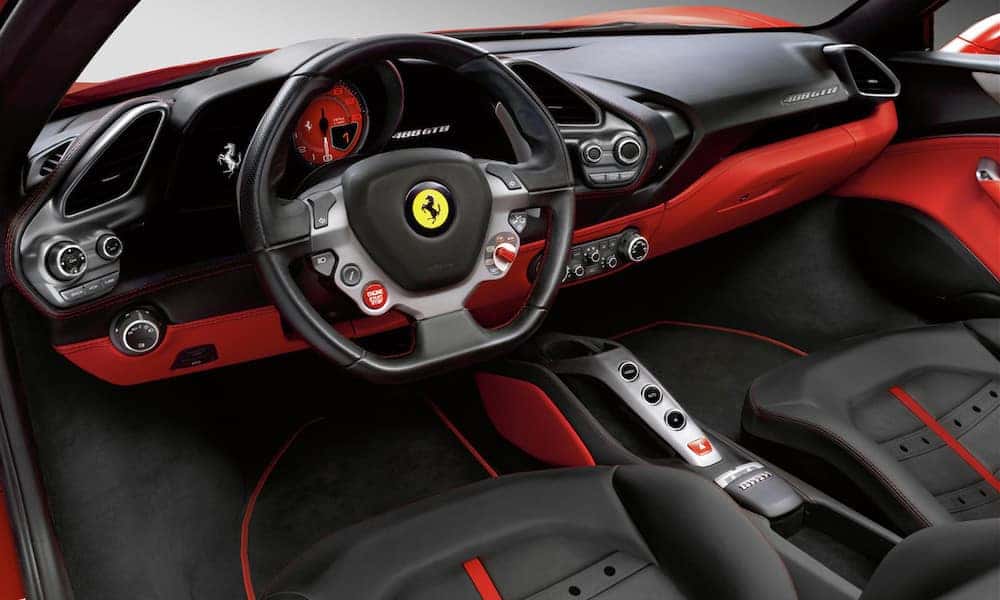 Ferrari 488 Interior Amenities and Technology
The Ferrari 488's interior also offers exceptional features to maximize your enjoyment behind the wheel – or in the passenger seat. Satellite navigation, Apple CarPlay, and Bluetooth are all available inside the 488. The infotainment system is integrated into the instrument, enabling the driver to maintain focus on the road even as they manipulate the entertainment options — and with an available 12-speaker JBL audio system, there's plenty of entertainment to be had as you tear up the track.
Find Your 488 With Continental AutoSports Ferrari
Everything about the 488 places the emphasis on the driver — and offering comfort and enjoyment alongside unassailable performance is part of that. This incredible vehicle isn't just a hot commodity around Indianapolis and Milwaukee — it's sought-after the world over. You can inquire about buying your own when you contact Continental AutoSports Ferrari no matter where you are in the United States: while the Chicago area is our home, we can help drivers throughout the country acquire a Ferrari!
More About Ferrari Models