Ferrari 812 Superfast Engine Specs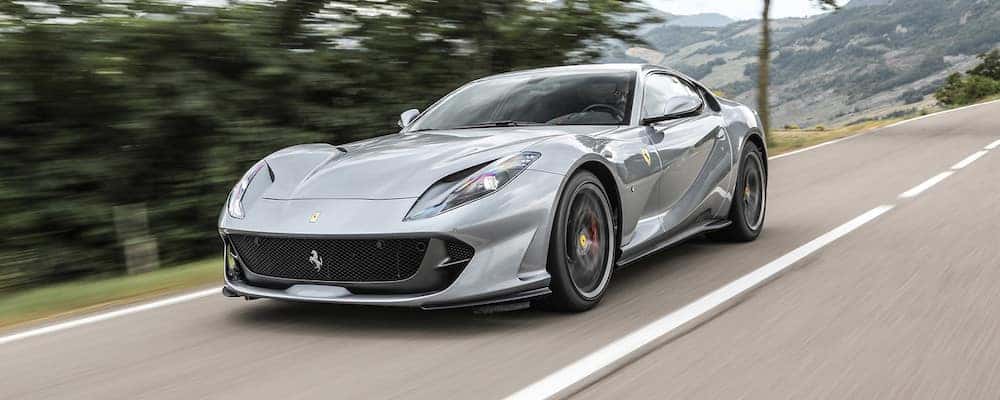 With the debut of 812 Superfast, Ferrari put all other sports cars and performance vehicles on notice; and with the reveal of the convertible 812 GTS, Ferrari made the statement that world-class speed and open-air driving enjoyment go hand-in-hand. No matter which you choose, the Ferrari 812's engine is a marvel of engineering and performance capability.
Output
Engine: Naturally Aspirated 6.5L V12
Horsepower: 800 hp @ 8,500 rpm
Torque: 529 lb-ft @ 7,000 rpm
Transmission: Seven-speed dual-clutch
The Ferrari 812 Superfast engine is the same as that of the 812 GTS, with both producing near 800 hp and 529 lb-ft of torque. Where they differ is in the transmission: while both feature a seven-speed dual-clutch gearbox, the transmission in the 812 GTS features shorter ratios.

Top Speed and Acceleration
Top Speed: 211 mph
812 Superfast Acceleration: 0 – 62 mph in 2.9 seconds
812 GTS Acceleration: 0 – 62 mph in 3 seconds
The fact that the Ferrari 812 Superfast and its convertible counterpart both share a top speed of 211 mph is a testament to the Prancing Horse's aerodynamic ingenuity. The drop-top does come at a very slight cost, though: while the Superfast can leap from a standstill to 60 mph in 2.9 seconds, the GTS requires an additional tenth of a second, reaching 62 mph in an impressive 3 seconds.
Acoustics
The acoustics are perhaps where the 812 GTS shines most brightly against the 812 Superfast, since it allows you to hear the glorious roar of this Prancing Horse's V12 engine revving up to 8,900 rpm with the top down. Nothing quite compares to the sound of a Ferrari in the open air — it'll blow you away on the track, but it's just as impressive when you're cruising on the highways between Chicago and Indianapolis.
Inquire About Buying a Ferrari 812 Superfast With Continental AutoSports Ferrari
The only way to truly appreciate the Ferrari 812's engine specs is to spend some time driving one, and you can inquire about getting your own by contacting Continental AutoSports Ferrari. Our home is Chicagoland, but we serve auto enthusiasts from Milwaukee and throughout the United States, so please don't hesitate to reach out!
More About the 812 Superfast
Demonstrating their continued commitment to pushing the envelope, Ferrari has revealed a versione speciale of the iconic 812 Superfast. Dubbed the Ferrari 812 Competizione, it's a faster, flashier, more refined version of a modern supercar legend. There's also a convertible variant called the Ferrari 812 Competizione A (or Aperta). What's not to love? View Ferrari Inventory Contact Us Ferrari 812 Competizione Changes: What's New? More Horsepower: The 812 Competizione, like the 812 Superfast, comes equipped with a naturally aspirated 6.5L V12 engine — but the Competizione produces more horsepower than the 812 Superfast, bringing its output to 819 hp. The…

A convertible version of the 812 Superfast, the Ferrari 812 GTS interior is a well-appointed masterpiece that lets you enjoy the wind in your hair while cruising in a supercar with a top speed of 211 mph. Both are powered by the same naturally aspirated front-engined V-12 engine, and both offer a driving experience unlike any other automaker's vehicles. But Ferrari has ensured that you can enjoy the comfort and convenience of modern technology while you're tearing up the track. View Ferrari Inventory Contact Us Design The most obvious element of the Ferrari 812 GTS is the ability to enjoy…

With the debut of 812 Superfast, Ferrari put all other sports cars and performance vehicles on notice; and with the reveal of the convertible 812 GTS, Ferrari made the statement that world-class speed and open-air driving enjoyment go hand-in-hand. No matter which you choose, the Ferrari 812's engine is a marvel of engineering and performance capability. Ferrari Inventory Apply for Financing Contact Us Output Engine: Naturally Aspirated 6.5L V12 Horsepower: 800 hp @ 8,500 rpm Torque: 529 lb-ft @ 7,000 rpm Transmission: Seven-speed dual-clutch The Ferrari 812 Superfast engine is the same as that of the 812 GTS, with both…