Located in Speedway, IN, Indianapolis Motor Speedway plays host to some of the biggest events in auto racing, including the Indianapolis 500, Brickyard 400, and the Ferrari Challenge Series. In what has become a yearly tradition, Ferrari Racing Days will once again be coming to this legendary track in 2022 alongside the Ferrari Challenge Series, and it's a weekend that you won't want to miss!
---
About the Venue
Indianapolis Motor Speedway Seating Capacity
Indianapolis Motor Speedway is the largest sporting venue in the world with permanent seating capacity for more than 235,000 people and infield seating that raises capacity to approximately 400,000. It's a historically significant track, especially for Ferrari enthusiasts.
How Long is the Indianapolis Motor Speedway Track?
The Indianapolis Motor Speedway track is 2.5 miles long, and takes the shape of a rectangular oval. It features two ⅝-mile long straightaways, two ⅛-mile long straightaways, and four identical ¼-mile turns. The course is also flat.
Compared to some of the world's more exotic racetracks, the layout is simplistic — but this allows for the focus to remain on raw driving skill on consistent conditions, making it an ideal track for spectators and racers alike.
---
Ferrari Challenge 2022
The 2022 Ferrari Challenge is once again coming to Indianapolis Motor Speedway, accompanied by Ferrari Racing Days from July 13 – July 17, 2022. This will be one of six North American stops on the Ferrari Challenge circuit in 2022. In addition to the Ferrari Challenge qualifying rounds and races, there will be an incredible array of retired F1 cars and race cars, along with vintage, classic, and modern Ferraris.
At the July 2021 Ferrari Challenge, there was an incredible display of 126 Ferrari race cars, 5 retired Ferrari Formula 1 cars, 11 Ferrari Monzas, and 80 production Ferraris — and we hope that there will be even more Ferraris in 2022!
The 2022 Ferrari Challenge North American Circuit
March 2 – 6: Circuit of the Americas
April 6 – 10: Daytona International Speedway
May 18 – 22: Watkins Glen International
June 10 – 12: Gilles Villeneuve Circuit
July 13 – 17: Indianapolis Motor Speedway
September 7 – 11: Sonoma Raceway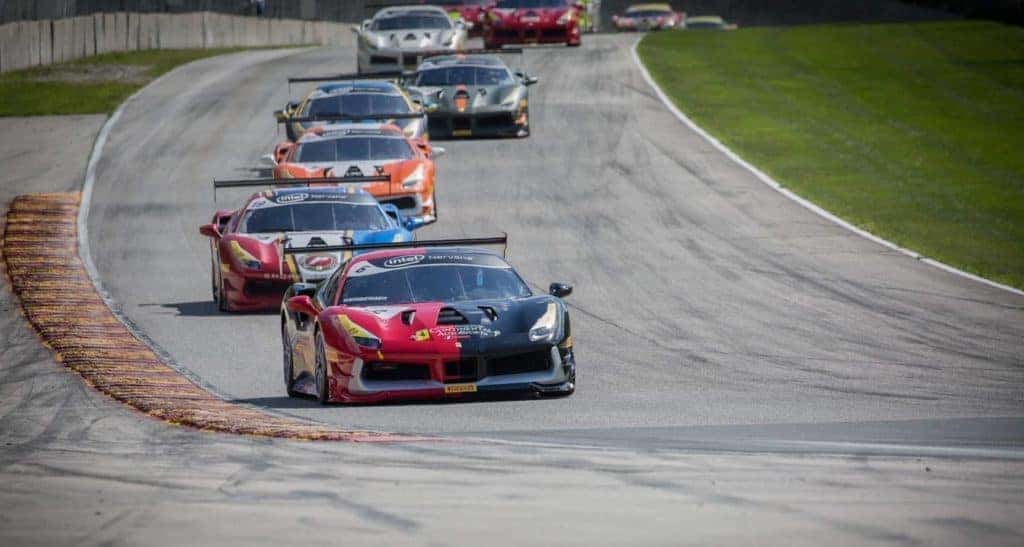 ---
Ferrari Challenge 2021 Results
The 2021 Ferrari Challenge races were the perfect venue for the North American debut of the Ferrari 812 Competizione, and drivers and spectators were given the chance to get up close and personal with Maranello's latest.
Of course, the races were the main draw, and offered plenty of thrills. Indianapolis Motor Speedway hosted round 5 of 7 in the 2021 Ferrari Challenge Series. Here's a look at the results:
Trofeo Pirelli: Jason McCarthy swept the AM1 races, while AM2 saw Keysin Chen and Brian Davis swapping the top spot.
Coppa Shell: New driver Jeremy Clark dominated both of his races, while Brad Fauvre — another new driver — won both races in Coppa Shell AM.
As always, the 2021 Ferrari Challenge Series at Indianapolis Motor Speedway was an incredible weekend spectacle that celebrated Ferrari's excellence with world-class driving and a showcase of the world's finest automotive designs.
2021 Ferrari Challenge US Drivers
The drivers who took part in the US Ferrari Challenge races include:
Bradley Horstmann
Cooper Macneil
Eric Marston
Frank Ruimy
John Horejsi
John Megrue

Lisa Clark
Martin Burrowes
Roy Carroll
Brett Jacobson
Keysin Chen
Dave Musial

Neil Gehani
Dave Musial Jr
Jason Mccarthy
Jordan Workman
Jacob Schreibman
Bret Curtis

Justin Wetherill
Kevan Milstein
Barry Zekelman
Anthony Decarlo
Christopher Aitken
Luis Perusquia

Yahn Bernier
David Schmitt
Michael Watt
Neil Langberg
Charles Whittall
Todd Coleman

Sureel Choksi
Lance Cawley
Eileen Bildman
Osvaldo Gaio
Brandon Kruse
Paul Kiebler
---
Learn More With Continental AutoSports Ferrari
Whether you're looking to buy a Ferrari of your own or you'd like to see what others can do with a Prancing Horse in Indianapolis, you can learn more by reaching out to Continental AutoSports Ferrari.
---
More From Continental AutoSports Ferrari
Few experiences match that of putting the Ferrari 360 in drive. The raucous hum of the V8 engine produces an enchanting roar and top speeds of over 180 miles per hour that will delicately raise the pulse of even the most experienced of drivers. Offered with your choice of Spider (convertible) or Berlinetta (coupe) bodywork, you'll be certain to turn heads and drop jaws when you take to the Indianapolis streets in your Ferrari 360. While the scorching engine and exceptional good looks of this supercar are enough to convince any discerning driver to buy, the Ferrari 360 interior keeps…

The unveiling of Ferrari Purosangue brings plenty of reasons to celebrate. After all, it isn't every day that Maranello unveils an all-new vehicle with a naturally-aspirated 6.5-liter V12 engine. Explore the factors that set this model apart with our comprehensive guide to the Ferrari Purosangue specs—and then stop in to experience its unmistakable roar first-hand. Preview Interior Compare to Lamborghini Urus Ferrari Purosangue Engine Although Ferrari is in the process of electrifying its lineup, it doesn't have any plans to phase out internal combustion engines completely. The Purosangue's interior design may be pushing the Italian automaker in exciting new directions,…

Ferrari's race cars and production cars have always been in intimate dialogue with one another, and the latest effort from the Prancing Horse's Competizioni GT team is a case in point. The Ferrari 296 GT3 is an incredible development in the racing segment that has always been closest to the manufacturer's heart. This Ferrari race car's design picks up where the 296 GTB leaves off—but the GT3 achieves a lower center of gravity with a unique 120-degree V6 configuration, which houses the turbochargers within the mid-rear-mounted V. The aluminum frame and braking system are likewise all-new. Although the 296…