Indianapolis Motor Speedway

Located in Speedway, IN, Indianapolis Motor Speedway plays host to some of the biggest events in auto racing, including the Indianapolis 500, Brickyard 400, and the Ferrari Challenge Series. Indianapolis Motor Speedway is the largest sporting venue in the world with permanent seating capacity for more than 235,000 people and infield seating that raises capacity to an approximate 400,000. It's a historically significant track, especially for Ferrari enthusiasts.
---
Track Details
The Indianapolis Motor Speedway track is 2.5 miles long, and takes the shape of a rectangular oval. It features two ⅝-mile long straightaways, two ⅛-mile long straightaways, and four identical ¼-mile turns. The course is also flat.
Compared to some of the world's more exotic racetracks, the layout is simplistic — but this allows for the focus to remain on raw driving skill on consistent conditions, making it an ideal track for spectators and racers alike.
---
Ferrari Challenge 2020
Originally scheduled for late April, the Indianapolis Motor Speedway hosted Ferrari challenge races on July 24 – 26, 2020, in addition to two test days before on-track activity started. The weekend consisted of two 30-minute races, along with qualifying rounds and practice laps. All participating racers drove the Ferrari 488 Evo Package.
Due to Covid-19, no spectators were allowed this year.
The Ferrari Challenge is the world's most famous one-make championship with over 1,000 drivers. The competitive nature of each race is ensured by the division of participants into a given series based on their ability and experience. The event is an exceptional opportunity to see drivers new and old push some of the world's finest supercars to the limit in the natural habitat of the Prancing Horse: the track.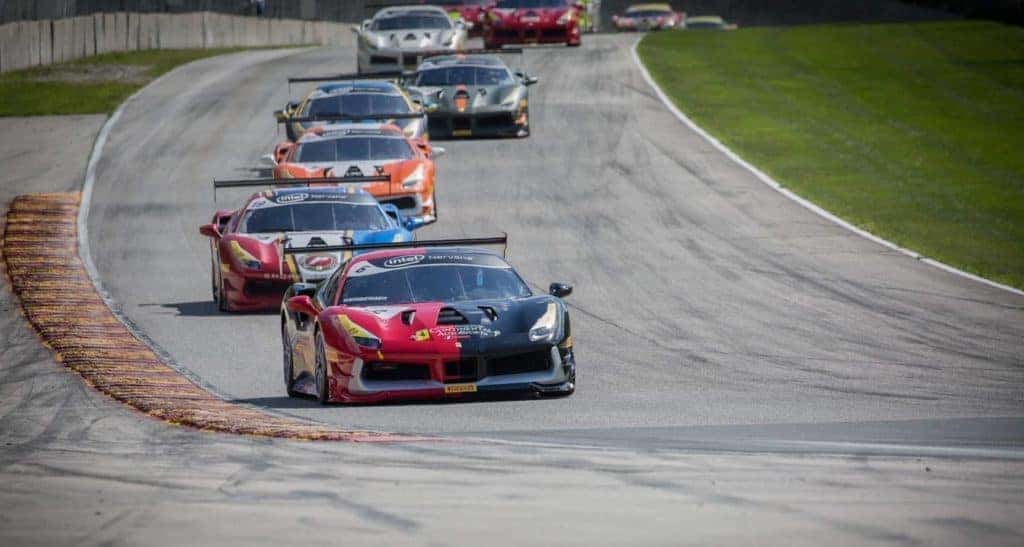 ---
2020 Ferrari Challenge Results
Race 1
Pirelli
1: Cooper MacNeil
2: Ross Chouest
3: Jordan Workman
Pirella AM
1: Dave Musial
2: Jean-Claude Saada
3: Aron Weiss
Shell
1: Kevan Millstein
2: Justin Wetherill
3: Jay Schreibman
Shell AM
1: Justin Wetherill
2: Yahn Bernier
3: Dave Musial Jr.
Race 2
Pirelli
1: Cooper MacNeil
2: Jordan Workman
3: Chris Cagnazzi
Pirella AM
1: Jean-Claude Saada
2: Aaron Weiss
3: Dave Musial
Shell
1: Kevan Millstein
2: Jim Booth
3: Jay Schreibman
Shell AM
1: Sureel Choksi
2: John Lennon
3: Dave Musial Jr.
---
Learn More With Continental AutoSports Ferrari
Whether you're looking to buy a Ferrari of your own or you'd like to see what others can do with a Prancing Horse in Indianapolis, you can learn more by reaching out to Continental AutoSports Ferrari.
---
More From Continental AutoSports Ferrari
2018 Ferrari California T One of One, Tailor Made, 70th Anniversary Special Edition 70 years after Ferrari became recognized as an official automotive manufacturer, they wanted to organize something special to immortalize their history and lineage. In 2016 it was announced at the Paris Motor Show that 70 special edition liveries, honoring street and race cars from Ferrari's past, would be mirrored onto the contemporary model range of the F12berlinetta, the 488 GTB, the 488 Spider, the GTC4Lusso, and the California T. In total, 350 absolutely unique vehicles would be manufactured and tailor-made to honor 70 years of Ferrari excellence….

Even when you're not pushing the limit, driving a Ferrari is a unique and thrilling experience, whether you're sticking to the streets of Chicago or blazing down the highways between Indianapolis and Milwaukee. It goes without saying that reaching a Ferrari's top speed is incredible on the track — but check out the list below to see just how fast you can go in a Ferrari. Ferrari Inventory Contact Us Ferrari Top Speed by Model Ferrari 360 Modena Top Speed: 183 mph Ferrari 360 Spider Top Speed: 180 mph Ferrari 360 Challenge Stradale Top Speed: 186 mph Ferrari 458 Speciale…

The announcement that Ferrari will return to the top class of the World Endurance Championship with a new Le Mans Hypercar in 2023 ignites memories of the first sparks of the relationship between Ferrari and endurance racing. Just two years after their first production car, two V12 Ferrari 166MMs entered in the 1949 24 Hours of Le Mans. The first Le Mans to take place after World War II. After six hours of racing, one of the Ferraris got caught in an accident, leaving the driver team of the Italian-born Luigi Chinetti and British Peter Mitchell-Thomson in a gruesome battle…