Ferrari 488 and Ferrari F8 Tributo Comparison
Ferrari 488 GTB
Ferrari F8 Tributo
First revealed at the 2019 Geneva Motor Show, the new F8 Tributo replaces the 488 in the Ferrari lineup, and while it shares many characteristics with the outgoing model, there are also some key differences, particularly in terms of its interior and exterior design.
---
Performance and Powertrain
While both models feature a 3.9L Trim-Turbo V8 engine, the F8 Tributo manages to squeeze superior performance from its powertrain, and its specs reflect that. It achieves a higher top speed (211 vs. 205 mph), a faster 0-62-mph time (2.9 seconds vs. 3.0 seconds), more horsepower (710 vs. 660), and more torque (568 lb-ft vs. 561 lb-ft) than the outgoing Ferrari 488. It's as much a triumph of design as one of its powertrain.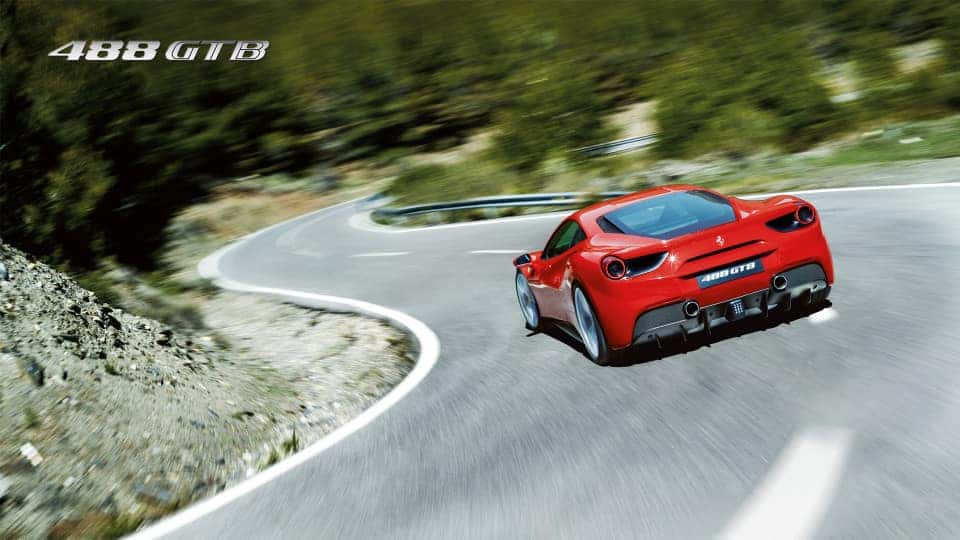 ---
Design
Part of the reason the F8 Tributo is able to up the ante on performance over the 488 is because it's shed weight from the outgoing model: the F8 Tributo is 88 pounds lighter than the 488, weighing in at 2,932 pounds with all lightweight options equipped.
The car's aerodynamics are also a factor, as the F8 Tributo has 10% advantage over the 488 in terms of aerodynamic efficiency. Some of this is due to the S-Duct, which allows the Tributo's front end to act as a wing and create downforce. This technology is a staple in Ferrari's Formula 1 models. Other design changes from the 488 on the F8 Tributo include smaller headlights, new brake cooling intakes, and quad taillights, as well as a Lexan rear windscreen and louvres designed to extract heat from the engine bay.
---
Interior
The F8 Tributo's interior is completely redesigned from the 488's, doing away with the two-tone color scheme and featuring a steering wheel that's two inches smaller in diameter. There's also a new 7-inch passenger touchscreen display and round air vents. Interior carryovers from the 488 include the iconic manettino and paddle shifters.
---
Learn More With Continental AutoSports Ferrari
The 2020 Ferrari F8 Tributo is an impressive evolution of the 488, and is understandably drawing attention from Indianapolis to Milwaukee and across the United States, and you can learn more when you contact Continental AutoSports Ferrari. Even if you're not in the Chicagoland area, we can help you acquire the supercar of your dreams.
---
More From Continental AutoSports Ferrari
What is the Ferrari KC23? Well, it's nothing more than the newest installment to the highly spectacular Ferrari lineup. Any true Ferrari follower would instantly recognize the seamless blend of Ferrari's Vision Gran Turismo concept and its Le Mans winning 499P that come together to make this vehicle. If you're a lover of all things bespoke, this may just be the car for you and your Hinsdale and Milwaukee drives! Browse More Ferrari InformationContact Us Ferrari KC23: Notable Features and Highlights While there's not much that we can tell you about the Ferrari KC23 engine specs and…

Only one thing is more thrilling than joining a race and experiencing the excitement of competing out on the track, winning. Second is great, but a manufacturer like Ferrari isn't satisfied until they're on the top step of the podium. Curious to know more about what happened at the race? Take a look below and we'll fill you in on all the hot details. New Ferrari ModelsContact Us Scuderia Ferrari For the Win Even though it's not number one, the Ferrari drivers should be filled with nothing but pride for their thrilling performance at the 6 Hours of…

Something can be considered good, great even, but at Ferrari, we don't strive to settle for great. We're always working to improve our vehicles and reach new peaks of never before seen technology and unmatched performance. And that's all come together in the very first road-legal XX car: the 2025 Ferrari SF90 XX Stradale. Which, luckily for Hinsdale drivers, is also available in the SF90 XX Spider version as well. Browsw New Ferrari Models Contact Us Not One But Two: SF90 XX Stradale and SF90 XX Spider There is not an inch of this vehicle, in either model, that doesn't…