Ferrari Portofino M vs. Bentley Continental GTC V8
Continental GT Convertible V8
The Ferrari Portofino M further refines a modern classic, but it does more than just iterate on a beloved Prancing Horse — it also stands out against all comers. When you compare the Ferrari Portofino M and Bentley Continental GTC V8, you're considering a pair of capable supercars. Not only does the Portofino M's design speak to a brilliant collaboration of beautiful design and raw power, but it also outperforms the Continental GT Convertible across the board: in engine specs, in performance, and even in interior space.
---
Portofino M vs. Continental GTC V8: Powertrain and Performance
It's clear from a quick glance at the Portofino's specs that the Continental GTC V8 just can't keep up with this Prancing Horse. In terms of horsepower, max engine speed, top speed, and acceleration, the Portofino thoroughly outclasses Bentley's offering.
Ferrari Portofino M Powertrain Specs
Engine: 3.9L Twin-Turbo V8
Horsepower: 612 hp
Torque: 561 lb-ft
Max Engine Speed: 7,500 rpm
Top Speed: 200 mph
Acceleration: 0 – 60 mph in 3.45 seconds
Bentley Continental GT Convertible V8
Engine: 4.0L V8
Horsepower: 542 hp
Torque: 568 lb-ft
Max Engine Speed: 6,000 rpm
Top Speed: 198 mph
Acceleration: 0 – 60 mph in 4 seconds
---
Portofino M vs. Continental GT Convertible: Interior Differences
The differences you'll find between the Ferrari Portofino M and Bentley GTC V8 extend beyond what's under the hood: if you peek inside of each vehicle, you'll find that the M continues to outshine the GT convertible V8. Consider the following advantages of the Portofino M:
18-Way Electronically Adjustable Seats: While both vehicles offer heated and ventilated front seats, the Portofino M offers 18-way electronically adjustable seats, granting the driver fine-grained control over their seating position.
Tilt-and-Telescoping Steering Wheel: The Continental offers a tilt-only steering wheel — once again, Ferrari believes in giving drivers as much control as possible, and as such the Portofino M features a tilt-and-telescoping steering wheel.
More Storage: While the Portofino M is comfortable tearing up the track, it's also a capable daily driver, and its 10.3 cubic feet of storage space speaks to that. The Continental GT Convertible V8 offers a relatively sparse 8.3 cubic feet of cargo space.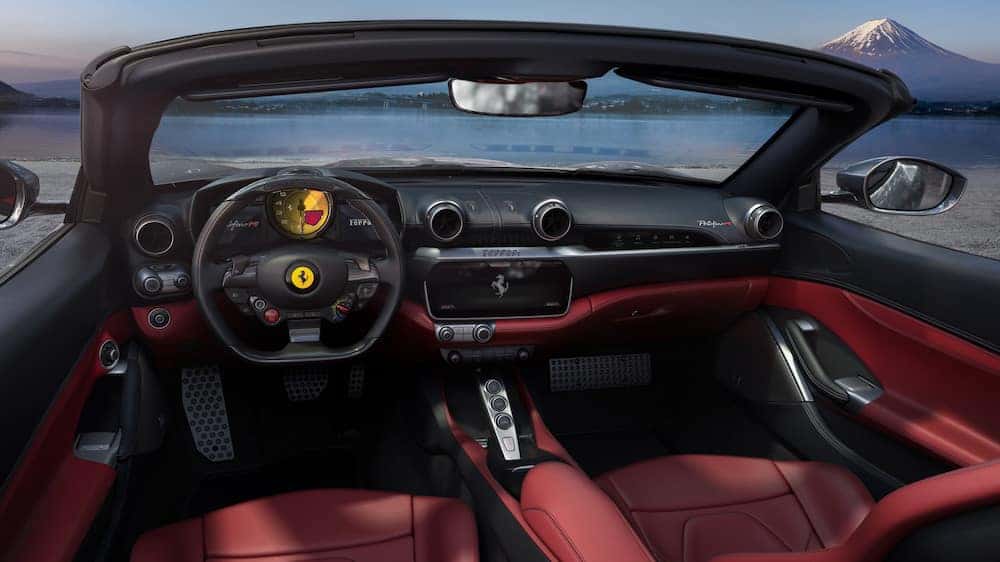 ---
Experience the Portofino M With Continental AutoSports Ferrari
When comparing the Portofino M and Continental GTC V8, the choice is obvious. And if you want to inquire about buying your own Ferrari, we can help, even if you're based in Indianapolis or Milwaukee! At Continental AutoSports Ferrari, we've helped facilitate the purchase of new and pre-driven Ferraris with buyers across the United States, and we'd love to help you. Contact us online to get started.
---
More From Continental AutoSports Ferrari
Few experiences match that of putting the Ferrari 360 in drive. The raucous hum of the V8 engine produces an enchanting roar and top speeds of over 180 miles per hour that will delicately raise the pulse of even the most experienced of drivers. Offered with your choice of Spider (convertible) or Berlinetta (coupe) bodywork, you'll be certain to turn heads and drop jaws when you take to the Indianapolis streets in your Ferrari 360. While the scorching engine and exceptional good looks of this supercar are enough to convince any discerning driver to buy, the Ferrari 360 interior keeps…

The unveiling of Ferrari Purosangue brings plenty of reasons to celebrate. After all, it isn't every day that Maranello unveils an all-new vehicle with a naturally-aspirated 6.5-liter V12 engine. Explore the factors that set this model apart with our comprehensive guide to the Ferrari Purosangue specs—and then stop in to experience its unmistakable roar first-hand. Preview Interior Compare to Lamborghini Urus Ferrari Purosangue Engine Although Ferrari is in the process of electrifying its lineup, it doesn't have any plans to phase out internal combustion engines completely. The Purosangue's interior design may be pushing the Italian automaker in exciting new directions,…

Ferrari's race cars and production cars have always been in intimate dialogue with one another, and the latest effort from the Prancing Horse's Competizioni GT team is a case in point. The Ferrari 296 GT3 is an incredible development in the racing segment that has always been closest to the manufacturer's heart. This Ferrari race car's design picks up where the 296 GTB leaves off—but the GT3 achieves a lower center of gravity with a unique 120-degree V6 configuration, which houses the turbochargers within the mid-rear-mounted V. The aluminum frame and braking system are likewise all-new. Although the 296…