The history of both Maserati and Ferrari is intertwined in many ways — at one point, Ferrari even had full ownership over its erstwhile rival! But as you'll see, the two Italian automakers have gone in very different directions. While Maserati cars are legitimate supercars, it's clear that they're made for luxury first and performance second, while Ferrari shows that it's possible to be dedicated to both.
---
Heritage
Maserati
Maserati's roots are in racing, with the first car bearing a Maserati logo being a direct result of automaker Diatto suspending production of race cars in 1926. Maserati made a splash quickly, with an early model driven by Alfieri Maserati winning the Targa Florio in the automaker's inaugural year.
Despite its roots, Maserati withdrew from racing in 1957, instead shifting their focus to producing grand tourers. Perhaps the most famous of these were the 3500 GT and the Ghibli coupe, the latter of which boasted a 4.7L dry-sump quad cam V8 engine. While Maserati saw success with its GT lineup, the company fell on hard times in 1973 due in large part to the oil crisis of that year, when demand for high-performing and fuel-thirst GTs shrank. Citroen, then Maserati's owner, went bankrupt in 1974, with Maserati being put into liquidation the following year.
Maserati was ultimately purchased by Alejandro de Tomaso, but its troubles had only begun. Immediately, De Tomaso dismissed Maserati's Chief Engineer; by the 1980s, the company had largely abandoned mid-engined sports cars entirely, focusing instead on front-engine, rear-drive coupes, a bid that was successful in the short term by capitalizing on Maserati's name. Over the next several decades, both Chrysler and FIAT took progressively larger ownership stakes in the company, even as Maserati produced few vehicles of note during this period (notwithstanding the Ghibli, which remains in production to this day).
While the history of Ferrari and Maserati is one of rivalry in their earliest years and Ferrari's dominance through much of the twentieth century, this took an interesting turn in 1997, when FIAT sold its 50% stake in Maserati to Ferrari (though FIAT had a major ownership stake in Ferrari itself at the time): Ferrari took full control over Maserati in 1999, at which point Maserati became Ferrari's luxury division. This ushered in an era of modernization and improvement for Maserati, which introduced the 3200 GT to critical acclaim. Shortly after taking full ownership, Ferrari oversaw the construction of a new factory and the modernization of the automaker's tool and processes to bring Maserati into the modern age. It was also during this period that Maserati once again became a global automaker, reentering the United States market in 2002. While Maserati was split off from Ferrari in 2005, it's clear that Ferrari stewardship reinvigorated the brand and the vehicles that powered it.
Nevertheless, Maserati has only recently reentered the high-performance market, and in its modern iteration is untested in this area. While it's hard to imagine Maserati ever producing a supercar or hypercar that can compete with Ferrari's best, the fact that it's even being discussed as a possibility is likely a direct result of Ferrari's stewardship of the company in the early 2000s.
Ferrari
Ferrari's history is not nearly so troubled as Maserati's; in stark contrast to Maserati, Ferrari began with the spirit of the track and never abandoned it. The Prancing Horse traces its roots to 1929, where it began as Alfa Romeo's racing division, which was known at the time as Scuderia Ferrari (a name Ferrari continues to use proudly). But while its history on the track began in the twenties, it wasn't until 1947 that Ferrari released its first model: the 125 S. Since that release, Ferrari has continued to push the boundaries of automotive possibility with continual refinements and innovation in its stable of supercars and hypercars. With this in mind, it's not surprising that Ferrari has claimed a record 16 Formula 1 Constructors' Championships since its founding, producing better and faster vehicles with each passing year.
---
Engines for Maserati Vehicles vs. Ferrari Engines
Even with Maserati's intention to reenter the world of high-performance vehicles, it's clear that they have some catching up to do if they wish to compete with Ferrari. Just take a look at the engines in recent releases from each automaker:
Ferrari 812 Competizione: Equipped with a naturally aspirated 6.5L V12 produces 819 hp, and can go from 0 – 60 mph in 2.8 seconds.
2022 Maserati Ghibli Trofeo: Equipped with a 3.8L twin turbo V8 that produces 580 hp, and can go from 0 – 60 mph in 3.7 seconds.
---
Maserati Logo vs. Ferrari Logo
Maserati Logo: Designed by Mario Maserati, the automaker's trident logo is based on the Fountain of Neptune in Bologna's Piazza Maggiore. Not only is this statue characteristic of Bologna, Italy — Maserati's original home — but it's also said to represent strength and vigor.
Ferrari Logo: Ferrari's Prancing Horse logo was earned on the track. While it has roots going back to the Duke of Savoy in 1962, the symbol was eventually awarded to the winner of 1923 Circuito Automobilistico del Savio (Savio Racing Car Circuit) in Ravenna: none other than Enzo Ferrari himself!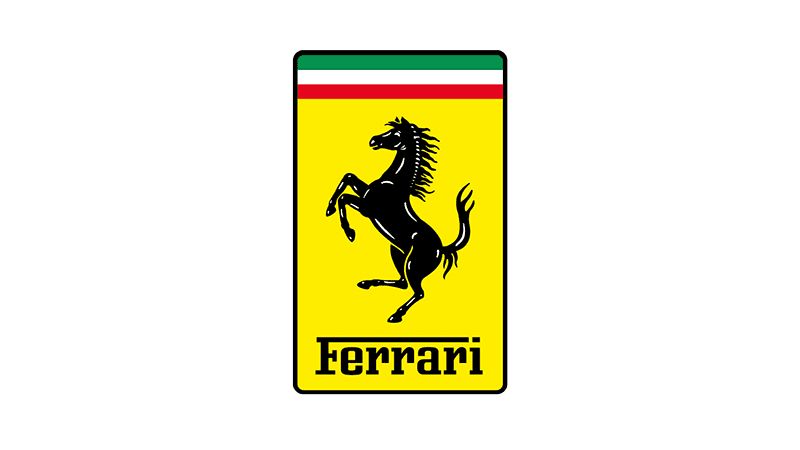 ---
Purchase Your Own Supercar With Continental AutoSports Ferrari
Reading a Maserati vs. Ferrari comparison cannot express the differences between these two brands adequately — but when you drive a Ferrari, you'll understand. And when you embrace the racing spirit, the obvious next step is to buy a Ferrari of your own, and we can help. While Continental AutoSports Ferrari is based in the Chicago area, we've proudly served buyers from Indianapolis, Milwaukee, and elsewhere in the United States. Contact us today to get started!