Mercedes-Benz AMG GT-C vs. Ferrari Roma
And Mercedes-Benz vs. Ferrari comparison should include a look at the AMG GT-C and the Roma. Both are impressive supercars that offer compelling designs and performance. But when you take a look at the specs of the Mercedes AMG GT-C vs. Ferrari Roma, it becomes clear that the Roma has more to offer — and that's true when you're inside each vehicle, too.
---
Powertrain and Performance
When you consider the Mercedes-Benz vs. Ferrari in the context of what each can do on the road or track, it's no contest: the Roma handily outperforms the AMG GT Convertible. Take a look:
Power: Despite having a higher-displacement engine (4.0L vs 3.9L), the Mercedes-Benz GT-C produces just 550 hp and 502 lb-ft of torque, which it outclassed by the Roma's 611 hp and 561 lb-ft of torque.
Speed: With additional power comes additional speed, and the Roma proves it by jumping from a standstill to 60 mph in 3.4 seconds and being able to reach a top speed of 200 mph. The AMG GT Convertible can't keep up, though it still performs respectably with a 0-60-mph-time of 3.6 seconds and a top speed of 197 mph.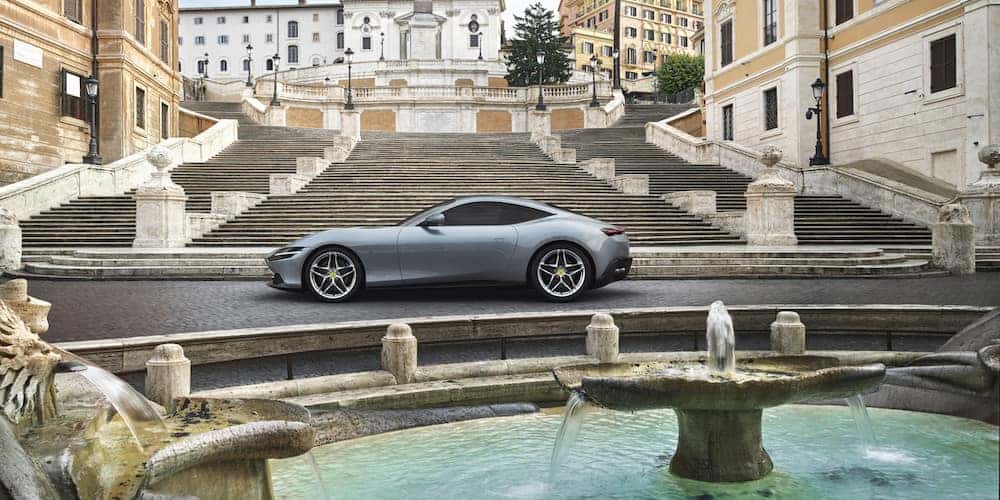 ---
Interior and Design
The Ferrari Roma's interior showcases an evolution of the Dual Cockpit design concept. Both driver and passenger enjoy symmetrical "cells," with surfaces and functions organically distributed to offer a seamless blend of form and function. This concept goes beyond just the shape of the Roma's interior — the materials used throughout the cabin are designed to showcase material continuity, with each material used presented as a consequence of another. In short, the Roma's design is a masterwork.
The Mercedes AMG GT-C is no slouch, even compared to the Roma. It has its aerodynamic bells and whistles, and it's attractive enough — if not as sculpted as the Roma — but there's more to both of these cars than raw design. Dive into their features and you'll see that the Roma's interior offerings outdo the AMG GT-C's in a few key ways, including:
Digital Instrument Clusters: While both vehicles feature digital instrument clusters, the Roma gives you the real estate to absorb all of the vehicle information you could want with its curved 16-inch digital cluster. This panel dwarfs the Mercedes AMG GT's 12.3-inch digital instrument cluster.
Passenger Display: Here's something you won't find at all in the Mercedes-Benz. The Roma includes an 8.8-inch passenger display touchscreen that shows performance information and offers control of various multimedia functions.
Cargo Space: As a practical matter, the Roma offers approximately 12 cubic feet of trunk space, which easily outclasses the 10.1 cubic feet of the AMG GT-C.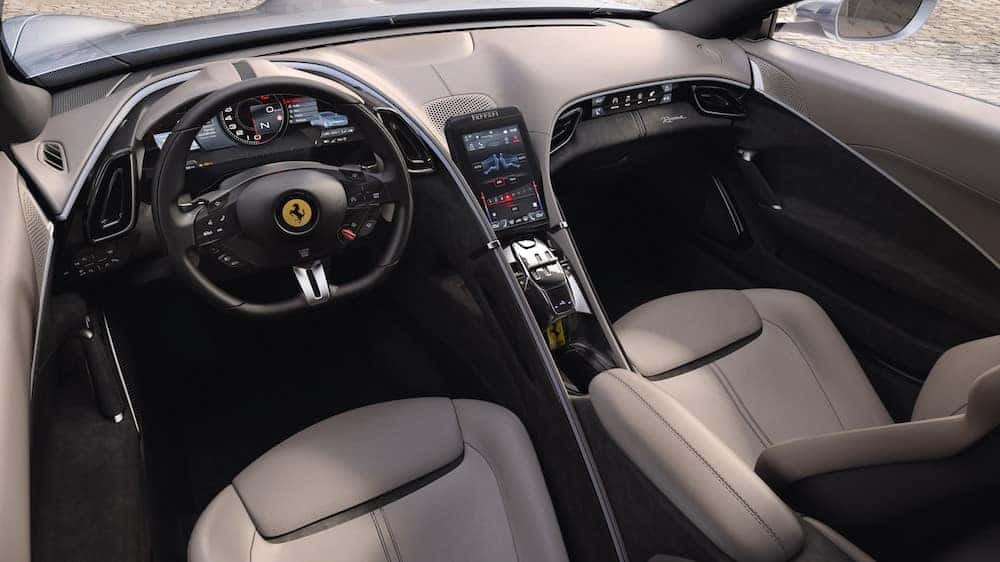 ---
Learn More About the Ferrari Roma With Continental AutoSports Ferrari
When conducting your Mercedes AMG GT vs. Ferrari Roma comparison, it's easy to see why this Prancing Horse is associated with La Nuova Dolce Vita, or "the new sweet life." It's a stunning vehicle that's highly sought-after from Milwaukee to Milwaukee, and it matches up favorably against other competitors such as the Aston Martin DB11 Coupe as well. Want to buy a Ferrari of your own? Contact Continental AutoSports Ferrari in the Chicago area — we can help drivers throughout the country achieve their dream of owning a new Prancing Horse.
---
More From Continental AutoSports Ferrari
What is the Ferrari KC23? Well, it's nothing more than the newest installment to the highly spectacular Ferrari lineup. Any true Ferrari follower would instantly recognize the seamless blend of Ferrari's Vision Gran Turismo concept and its Le Mans winning 499P that come together to make this vehicle. If you're a lover of all things bespoke, this may just be the car for you and your Hinsdale and Milwaukee drives! Browse More Ferrari InformationContact Us Ferrari KC23: Notable Features and Highlights While there's not much that we can tell you about the Ferrari KC23 engine specs and…

Only one thing is more thrilling than joining a race and experiencing the excitement of competing out on the track, winning. Second is great, but a manufacturer like Ferrari isn't satisfied until they're on the top step of the podium. Curious to know more about what happened at the race? Take a look below and we'll fill you in on all the hot details. New Ferrari ModelsContact Us Scuderia Ferrari For the Win Even though it's not number one, the Ferrari drivers should be filled with nothing but pride for their thrilling performance at the 6 Hours of…

Something can be considered good, great even, but at Ferrari, we don't strive to settle for great. We're always working to improve our vehicles and reach new peaks of never before seen technology and unmatched performance. And that's all come together in the very first road-legal XX car: the 2025 Ferrari SF90 XX Stradale. Which, luckily for Hinsdale drivers, is also available in the SF90 XX Spider version as well. Browsw New Ferrari Models Contact Us Not One But Two: SF90 XX Stradale and SF90 XX Spider There is not an inch of this vehicle, in either model, that doesn't…