How Fast is the Ferrari Daytona SP3 0–60 Time?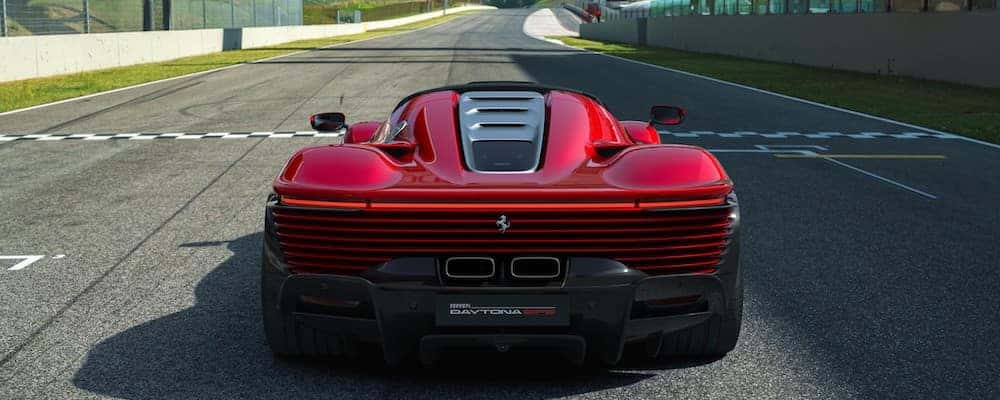 The Ferrari Daytona SP3 0–60 time clocks in at 2.85 seconds—and with the ability to go from 0 to 124 mph in 7.4 seconds flat, it's safe to say that this model is truly exceptional. The Prancing Horse's Icona Series combines classic Ferrari styling elements with the very latest in advanced performance technology, and we can't wait to show Chicagoland's drivers everything that this ultra-exclusive, limited-edition supercar can do.
Ferrari Daytona SP3 Top Speed
How fast is the Ferrari Daytona SP3? With its naturally aspirated V12 engine, this potent vehicle easily ranks in the top tier of our current lineup. All Ferrari vehicles are fast, but the fastest among them can reach top speeds ranging from 210 to 218 miles per hour. Since the Ferrari Daytona SP3's top speed reaches as high as 211 mph, drivers who seek the best of the best can't afford to overlook this one-of-a-kind model.
Ferrari Daytona SP3 Specs
What is it about the colorful Ferrari Daytona SP3 that makes this model so impressive? Today's engineers are always attempting to push the envelope where power and design are concerned, and the team behind your favorite Ferrari sports cars is willing to go far further than most!
Although the Daytona SP3 is heavily inspired by the genre-defining models of yesteryear, the following SP3 specs and dimensions are only achievable with the most modern design techniques and technologies:
Ferrari Daytona SP3 Engine & Power Output
Engine: 6.5L V12
Horsepower: 829 hp @ 9,250 rpm
Torque: 514 lb-ft @ 7,250 rpm
Transmission: 7-speed dual-clutch
Drivetrain: Rear-wheel drive
Ferrari Daytona SP3 Body & Dimensions
Body Length: 184.48 inches
Width: 80.7 inches
Height: 44.96 inches
Wheelbase: 104.37 inches
Front Track: 66.61 inches
Rear Track: 64.21 inches
Weight Distribution: 44%–56% front/rear
Curb Weight: 3273.86 pounds
Learn More About The Ferrari Daytona SP3 Today!
Now that you've had a chance to review the Ferrari Daytona SP3 specs, we can only imagine that you'll be eager to get a closer look! Although our dealership will most likely receive fewer than ten SP3 models, drivers from Milwaukee to Indianapolis are welcome to contact our team to learn more. Even if you don't manage to get behind the wheel of this utterly singular supercar, you should prepare to have the ride of your life at Chicagoland's Continental AutoSports Ferrari.
More From Continental AutoSports Ferrari
The unveiling of Ferrari Purosangue brings plenty of reasons to celebrate. After all, it isn't every day that Maranello unveils an all-new vehicle with a naturally-aspirated 6.5-liter V12 engine. Explore the factors that set this model apart with our comprehensive guide to the Ferrari Purosangue specs—and then stop in to experience its unmistakable roar first-hand. Preview Interior Compare to Lamborghini Urus Ferrari Purosangue Engine Although Ferrari is in the process of electrifying its lineup, it doesn't have any plans to phase out internal combustion engines completely. The Purosangue's interior design may be pushing the Italian automaker in exciting new directions,…

Ferrari's race cars and production cars have always been in intimate dialogue with one another, and the latest effort from the Prancing Horse's Competizioni GT team is a case in point. The Ferrari 296 GT3 is an incredible development in the racing segment that has always been closest to the manufacturer's heart. This Ferrari race car's design picks up where the 296 GTB leaves off—but the GT3 achieves a lower center of gravity with a unique 120-degree V6 configuration, which houses the turbochargers within the mid-rear-mounted V. The aluminum frame and braking system are likewise all-new. Although the 296…

Relatively little is known about the vehicle that Ferrari will enter into next year's 24-hour endurance race at Le Mans, referred to as the Ferrari 499P, but its full debut is right around the corner. It's been 50 years since the Prancing Horse's last entry as a works team into the race's top category, so enthusiasts everywhere are understandably waiting at the edges of their seats for clear details. Here's what we know so far: What is a Hypercar? Ferrari Returns to Le Mans 499P: A Genuine Ferrari —Hypercar The "Le Mans Hypercar" (or LMH) category replaces the LMP1 class,…