Ferrari Daytona SP3 Revealed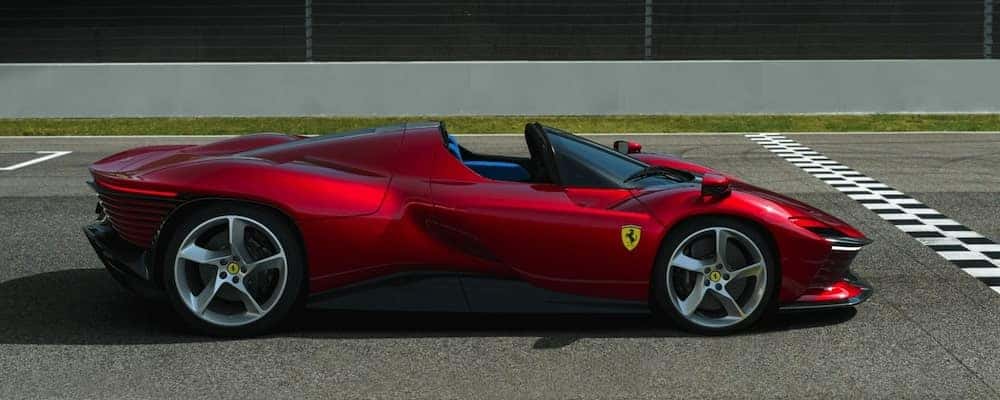 Ferrari's newest Icona series model is the Daytona SP3. Unveiled at the 2021 Finali Mondiali gathering at Italy's Mugello Circuit, the Ferrari Daytona SP3 is designed as a tribute to the iconic sports prototype race cars that won the 1967 24 Hours of Daytona. Specifically, that was the year that the Ferrari 330P3/4, 330P4, and 412P prototypes finished 1-2-3 in the legendary race, and the Daytona SP3 pays obvious tribute by way of similar contours and a mid-engine layout. But unlike those prototypes of old, the new SP3 is equipped with an incredible V12 engine that will make it one of the fastest Prancing Horses available.
How Many Ferrari Daytona SP3 Models Will Be Made?
Ferrari plans to build 599 colorful Ferrari Daytona SP3 models, which is roughly in line with the production numbers of the Monza SP1 and SP2. Ferrari itself issued a press release indicating that the model is "aimed solely at Ferrari's top clients and collectors, proud ambassadors for the Prancing Horse marque." This would make it a scarce and highly sought-after collectible, indeed.
What is the Ferrari Daytona SP3's Engine?
The car's performance is going to be thoroughly modern, courtesy of cutting-edge aerodynamic engineering and a stunning mid-mounted V12 engine that will give the SP3 the highest output of any of Ferrari's road cars to date. Here are the key powertrain specs:
Engine: 6.5L V12
Horsepower: 829 hp @ 9,250 rpm
Torque: 514 lb-ft @ 7,250 rpm
Transmission: 7-speed dual-clutch
Acceleration: 2.85 seconds
Top Speed: 211 mph
Drivetrain: Rear-wheel drive
Combined with extensive use of carbon fiber on the car's exterior, the Daytona SP3 is built to tear up the track.
Inquire About the Daytona SP3 With Continental AutoSports Ferrari
While availability is expected to be extremely limited, we invite you to inquire about purchasing a Daytona SP3 — or any other Ferrari — at Continental AutoSports Ferrari. We've helped people across the United States buy a Ferrari of their own, and we'd be delighted to help you as well. Contact us today to get started!
More From Continental AutoSports Ferrari
The long-anticipated debut of the fresh Ferrari 296 GT3 has arrived, with the Grand Touring Car making its first appearance at the 61st annual 24 Hours of Daytona. Among the 296 GT3 entrants, a mix of professional and gentleman drivers piloted the fabled Prancing Horse models around the track. The official team that led the charge was made up of drivers Alessandro Pier Guidi, James Calado, Davide Rigon, and Daniel Serra. In our guide below, you'll have the opportunity to study the history of 24 Hours of Daytona, the capabilities of the Ferrari 296 GT3, and the 2023 results. Ferrari…

The Ferrari 360 is a legendary mid-engine sportscar that saw production from 2000 through 2005. Now, this Prancing Horse model is a fabled vehicle coveted by collectors and automotive enthusiasts alike. While the familiar badging, colors, and body style mark this model as classically Ferrari, the performance also stands out from other models on the Chicago streets. Luckily, thanks to Continental AutoSports Ferrari, you can learn more about the Ferrari 360 engine and performance before shopping at our Chicagoland Ferrari dealer. Read through our research guide to familiarize yourself with the Ferrari 360 0-60 times and so much more! Ferrari 360 Interior…

The 2023 Ferrari Challenge is a dazzling automotive display that includes stops all over the globe. From the United Kingdom to the United Arab Emirates, this exciting race series offers the opportunity to take in the Ferrari experience in endless idyllic locations. While travels overseas are always a treat, you can live the Ferrari lifestyle much closer to home! That's because the 2023 Ferrari Challenge includes a North American leg with a stop at Road America in Plymouth, WI, from September 6th through the 10th! Marking the 30th year of the Ferrari Challenge, the 2023 event promises to offer pulse-raising…