Introducing the 2022 Ferrari F1-75 Race Car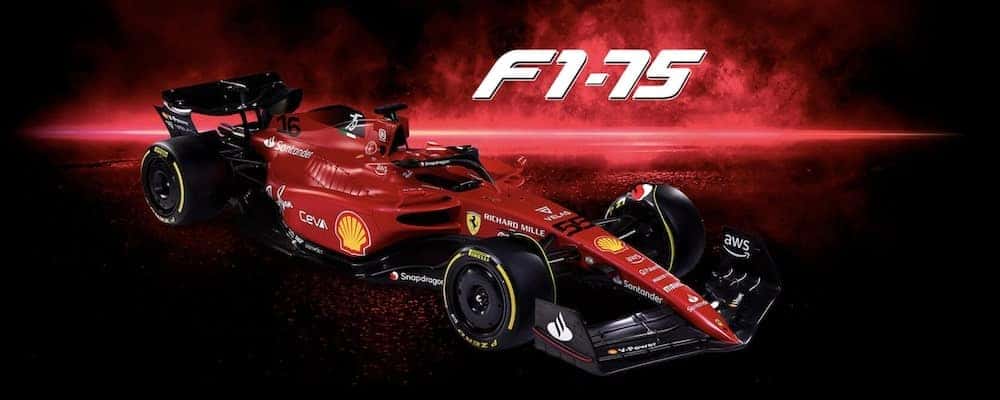 Ferrari race cars have an unparalleled lineage, and every year, enthusiasts across the world wait on the edges of their seats for the brand's latest Formula One challenger. For the 2022 racing season, Ferrari has unveiled the F1-75, designed from the ground up according to Formula One's all-new technical regulations.
What Stands Out in the New F1-75 Design?
Ferrari F1 drivers Charles Leclerc and Carlos Sainz Jr. will both sit behind the wheel of the F1-75 this season, and they've had nothing but good things to say about this bold and striking new design. New technical requirements from Formula One have given Ferrari a reason to think outside the box—and the results are sure to excite.
Among the many features that stand out, the extremely sharp nose and the bold, sculpted side pods are the first to capture the eye. A deep red paint gives the F1-75 a particularly unique and aggressive feel. Where performance is concerned, the most significant change is the introduction of new ground effects, which increase downforce on the vehicle and reduce drag that might interfere with passing. The new 18-inch tires are expected to reduce overheating—and we also love how they look!
Ferrari F1-75 Specifications
Of course, the real star of this year's Ferrari F1 show might be the hybrid powertrain, which consists of a 1.6L turbocharged V6 and two potent electric motor-generators. Take a closer look at the specs that will propel the F1-75 to victory in this year's Formula One season:
F1-75 Engine Specifications
Cubic Capacity: 1600 cc
Maximum RPM: 15,000
Supercharging: Single turbocharger
Maximum Fuel Flow Rate: 100 kg/hr
Configuration: 90° V6
Bore:80 mm
Stroke: 53 mm
Valves: 4 per cylinder
Direct Injection: Max 500 bar
F1-75 Electric Power Delivery
Configuration: Hybrid energy recovery system with electric motor generators
Battery Pack: Lithium-ion batteries with a minimum weight of 20 kg
Maximum Battery Pack Capacity: 4 MJ
MGU-K Maximum Power: 120 kW (163 cv)
MGU-K Maximum RPM: 50,000
MGU-H Maximum RPM: 125,000
F1-75 Body & Dimensions
Total Weight Including Water, Lubricants, and Driver: 1752.67 pounds
Chassis Manufactured from Carbon Fiber Honeycomb Composite Material with Protective Halo over the Cockpit
Bodywork and Seat in Carbon Fiber
Brembo Self-Ventilating Carbon Discs with Brake-by-Wire Control for the Rear
Ferrari Longitudinal Gearbox with 8 Gears, Plus Reverse
Push-Rod Front Suspension
Pull-Rod Rear Suspension
Front and Rear 18-inch Wheels
If you're interested in the designs and capabilities of Ferrari race cars, you can't afford to miss this year's Ferrari Challenge Series, either!
Follow the Latest Ferrari F1 News with Continental AutoSports Ferrari!
If you'd like to learn more about the Ferrari F1-75 design, don't hesitate to contact us at any time! Eager to keep up with the latest Ferrari news and updates? Our blog has all the details that Chicagoland, Indianapolis, and Milwaukee drivers need to know!
More From Continental AutoSports Ferrari
The unveiling of Ferrari Purosangue brings plenty of reasons to celebrate. After all, it isn't every day that Maranello unveils an all-new vehicle with a naturally-aspirated 6.5-liter V12 engine. Explore the factors that set this model apart with our comprehensive guide to the Ferrari Purosangue specs—and then stop in to experience its unmistakable roar first-hand. Preview Interior Compare to Lamborghini Urus Ferrari Purosangue Engine Although Ferrari is in the process of electrifying its lineup, it doesn't have any plans to phase out internal combustion engines completely. The Purosangue's interior design may be pushing the Italian automaker in exciting new directions,…

Ferrari's race cars and production cars have always been in intimate dialogue with one another, and the latest effort from the Prancing Horse's Competizioni GT team is a case in point. The Ferrari 296 GT3 is an incredible development in the racing segment that has always been closest to the manufacturer's heart. This Ferrari race car's design picks up where the 296 GTB leaves off—but the GT3 achieves a lower center of gravity with a unique 120-degree V6 configuration, which houses the turbochargers within the mid-rear-mounted V. The aluminum frame and braking system are likewise all-new. Although the 296…

Relatively little is known about the vehicle that Ferrari will enter into next year's 24-hour endurance race at Le Mans, referred to as the Ferrari 499P, but its full debut is right around the corner. It's been 50 years since the Prancing Horse's last entry as a works team into the race's top category, so enthusiasts everywhere are understandably waiting at the edges of their seats for clear details. Here's what we know so far: What is a Hypercar? Ferrari Returns to Le Mans 499P: A Genuine Ferrari —Hypercar The "Le Mans Hypercar" (or LMH) category replaces the LMP1 class,…