Ferrari GTC4Lusso Interior Design and Technology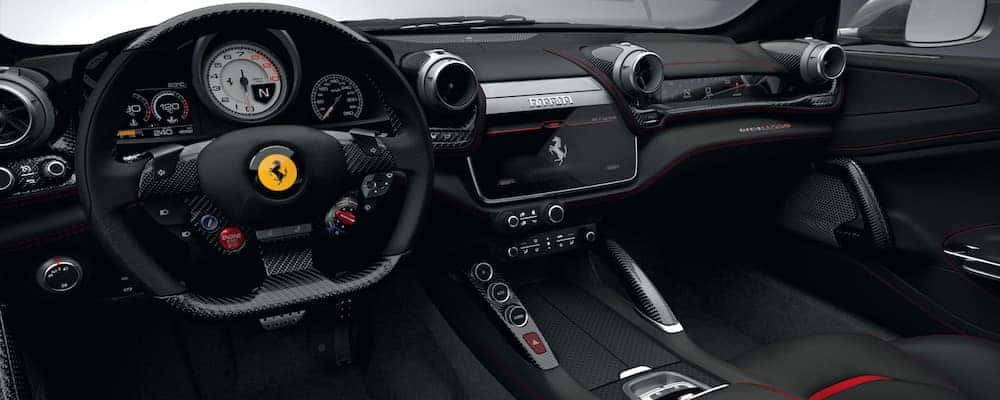 Having replaced the FF in the Ferrari lineup, the GTC4Lusso offers several improvements to the outgoing model — and not just under the hood, or in the exterior design. The Ferrari GTC4Lusso interior set a new standard for cabin design, not only for the Prancing Horse lineup and for shooting-brake coupes, but for vehicles the world over. You'll understand when you spend some time inside.
Cockpit Design

The first and perhaps most striking thing you'll notice when getting inside the GTC4Lusso is its dual-cockpit architecture. A central divider separates the front driver and passenger to give each an individual-cockpit feel, but there are also rear seats — a rarity among Prancing Horses. Even so, when you step on the gas and feel 680 hp @ 8,000 rpm and the potential top speed of 208 mph at your fingertips, you'll never question whether you're driving a Ferrari.
The cockpit is truly a triumph of sporty luxury, and the meticulous attention to design becomes even more apparent when you consider the amenities and technology with this all-wheel-drive supercar.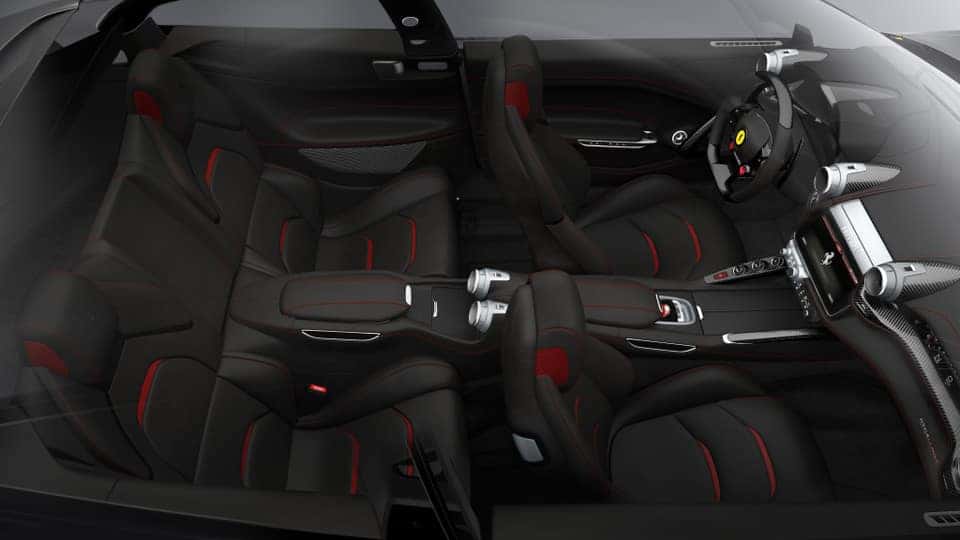 Amenities and Technology
The GTC4Lusso puts tremendous luxury amenities at your disposal, including a satellite navigation system with 3D maps, Apple CarPlay, climate control, and a 10.25-inch HD touchscreen in the center console. The front passenger can also enjoy an 8.8-inch color HD touchscreen that displays vehicle telemetry data.
This is a luxury supercar to be sure, but the GTC4Lusso's interior also boasts a number of practical improvements over the FF. The instrument boasts a large tachometer flanked by high-definition LCD screens that can display a variety of information, including navigation instructions. The steering column has no stalks with controls on them — rather, these controls are all located on the steering wheel itself for easy access, even at high speeds. Ferrari has produced a cabin in the GTC4Lusso that maximizes convenience and practicality while staying true to the incredible performance expected of a Prancing Horse.
Inquire About Your Own GTC4Lusso at Continental AutoSports Ferrari
The GTC4Lusso is truly a cutting-edge grand tourer, and you can inquire about purchasing one of your own when you contact Continental AutoSports Ferrari. While we're based in the Chicagoland area, we're happy to serve enthusiasts from Indianapolis to Milwaukee and throughout the United States.
More About Ferrari Models
The 2022 Ferrari Purosangue will be the first SUV Ferrari produces — but it's much more than a simple SUV. This is a vehicle that promises to unite the world-class driving experience of the Prancing Horse with a practical, utility-forward design meant to be as useful on daily drives around Chicago as it is impressive on the track. Expected to use a front-mid-engined design, the Purosangue is poised to be like nothing else on the market. Ferrari Inventory Contact Us What is an FUV? FUV stands for "Ferrari Utility Vehicle." This is a recognition that the Purosangue is much more…

The Ferrari 812 Competizione's specs showcase its status as a special edition of the vaunted 812 Superfast, offering higher revs, lower weight, more horsepower, and myriad other refinements. In one sense, this limited-edition 812 might be thought of as what the engineers in Maranello always wanted the Superfast to be; but in another sense, it's a stunning display of Ferrari's commitment to pushing the envelope with every new release. View Ferrari Inventory Contact Us Ferrari 812 Competizione Engine Output Engine: Naturally Aspirated 6.5L V12 Horsepower: 819 hp @ 9,500 rpm Torque: 510 lb-ft @ 7,000 rpm Transmission: Seven-speed dual-clutch The…

Demonstrating their continued commitment to pushing the envelope, Ferrari has revealed a versione speciale of the iconic 812 Superfast. Dubbed the Ferrari 812 Competizione, it's a faster, flashier, more refined version of a modern supercar legend. There's also a convertible variant called the Ferrari 812 Competizione A (or Aperta). What's not to love? View Ferrari Inventory Contact Us Ferrari 812 Competizione Changes: What's New? More Horsepower: The 812 Competizione, like the 812 Superfast, comes equipped with a naturally aspirated 6.5L V12 engine — but the Competizione produces more horsepower than the 812 Superfast, bringing its output to 819 hp. The…