What is Carbon Fiber Used For on Cars?

Carbon fiber is used in cars to lower weight while providing enough strength to withstand the rigors of racing. You'll notice that supercars and hypercars the world over place a premium on lowering their weight in addition to increasing engine output and refining their aerodynamic designs — and lowering weight is precisely what carbon fiber is good for in a car. Carbon fiber is five times lighter than steel while being less dense than aluminum, which is one of the lightest metals available. In a contest between two otherwise identical cars, the vehicle with carbon fiber parts is likely to outperform the model with parts made from traditional materials, because shedding weight allows it to make the most of its powertrain.
---
What is Carbon Fiber?
Carbon fiber is a polymer that's also known as graphite fiber. It's a strong, stiff material that's made of crystalline filaments of carbon twisted together. It can be woven into a cloth or molded into a permanent shape and coated with plastic or resin.
---
How Carbon Fiber Car Parts are Made
The process of making carbon fiber is both mechanical and chemical. Long strands of fibers are drawn and heated to extremely high temperatures without having contact with oxygen — oxygen would cause the fibers to burn — which causes carbonization. Carbonization is the process by which most non-carbon fibers are expelled from the material. The result is a material composed of tightly interlocked chains of mostly carbon atoms — what we know as carbon fiber.
---
Does Carbon Fiber Make Your Car Faster?
Carbon fiber materials can make your car faster because of its strength-to-weight-ratio: carbon fiber has the highest strength and stiffness per density of any material, including metal. This makes it ideal for high-performance, track-focused vehicles where every pound shed can potentially increase acceleration and top speed.
Think about it: you could have one vehicle with traditional auto parts and one with extensive carbon fiber material that otherwise have identical engines and shapes — the vehicle with carbon fiber will be lighter and stronger, enabling it to make the most of its powertrain. This is why the Ferrari SF90 Assetto Fiorano variant, for example, is the performance-oriented option — both the standard SF90 and the Assetto Fiorano are world-class performers, but the Assetto Fiorano variant implements more carbon fiber materials to lower the car's weight (among other enhancements).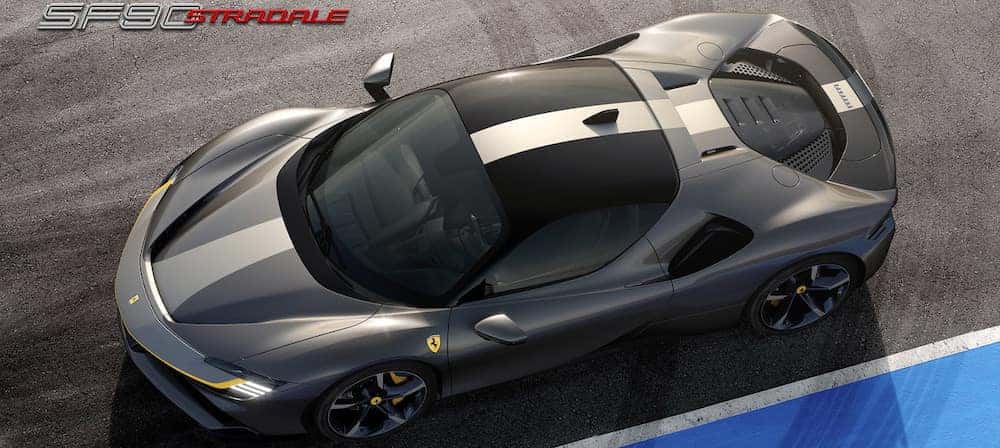 ---
Are Carbon Fiber Cars Safe?
Yes. Carbon fiber is a stronger material than steel, even though it's significantly lighter. In the auto world, carbon fiber is ideal because it lowers the vehicle's weight while still being able to withstand the stresses of racing at high speeds. In fact, energy.gov claims that "carbon-fiber composites could reduce passenger car weight by 50 percent and improve fuel efficiency by about 35 percent without compromising performance or safety." In other words, the use of carbon fiber and carbon-fiber composite materials in cars is all upside.
---
See What Carbon Fiber Can Do With Continental AutoSports Ferrari
The use of carbon fiber products in race cars is only likely to increase, particularly as Ferrari looks to continually lighten their vehicles without sacrificing performance or safety. Of course, the only way to truly understand the difference that carbon fiber makes is to drive a car that makes extensive use of it — and most modern Ferraris do.
Buying a Ferrari is a rite of passage for any true auto enthusiast, and we're here to facilitate your purchase! While our dealership is based in the Chicago area, we've assisted drivers from Indianapolis, Milwaukee, and throughout the United States. Contact Continental AutoSports Ferrari today to get started, and get answers to other commonly-asked questions about Ferrari parts and materials.
More About Ferrari Models
What is the Ferrari KC23? Well, it's nothing more than the newest installment to the highly spectacular Ferrari lineup. Any true Ferrari follower would instantly recognize the seamless blend of Ferrari's Vision Gran Turismo concept and its Le Mans winning 499P that come together to make this vehicle. If you're a lover of all things bespoke, this may just be the car for you and your Hinsdale and Milwaukee drives! Browse More Ferrari InformationContact Us Ferrari KC23: Notable Features and Highlights While there's not much that we can tell you about the Ferrari KC23 engine specs and…

Only one thing is more thrilling than joining a race and experiencing the excitement of competing out on the track, winning. Second is great, but a manufacturer like Ferrari isn't satisfied until they're on the top step of the podium. Curious to know more about what happened at the race? Take a look below and we'll fill you in on all the hot details. New Ferrari ModelsContact Us Scuderia Ferrari For the Win Even though it's not number one, the Ferrari drivers should be filled with nothing but pride for their thrilling performance at the 6 Hours of…

Something can be considered good, great even, but at Ferrari, we don't strive to settle for great. We're always working to improve our vehicles and reach new peaks of never before seen technology and unmatched performance. And that's all come together in the very first road-legal XX car: the 2025 Ferrari SF90 XX Stradale. Which, luckily for Hinsdale drivers, is also available in the SF90 XX Spider version as well. Browsw New Ferrari Models Contact Us Not One But Two: SF90 XX Stradale and SF90 XX Spider There is not an inch of this vehicle, in either model, that doesn't…