What is the Ferrari Certified Pre-Owned Warranty?

When you choose a vehicle that has come through the Ferrari Approved Certified Pre-Owned Program, you'll drive home in a model that has undergone an extensive inspection and earned the highest marks from trained and certified engineers—but that's not all. Thanks to the Ferrari Certified Pre-Owned Warranty, you'll enjoy up to twelve months of coverage that starts on the date of your purchase.
---
What's Covered by the Ferrari Certified Pre-Owned Warranty?
As with most warranties, the Ferrari Certified Pre-Owned Warranty covers most parts, when defects due to manufacturing or workmanship impede their normal operation. Replacement partsand labor are both included with your coverage. If you have a question about whether or not a particular component is covered by your Ferrari warranty, don't hesitate to contact us online or pay a visit to our Chicagoland Ferrari service center.
Since Ferrari CPO warranty coverage is so extensive, it's actually more useful to inquire after the features that are not covered. The owner of a Ferrari CPO vehicle will still retain full responsibility for the replacement of tires, brakes, and other components that require service due to normal wear and tear.
It's worth noting that many components not covered by the Ferrari CPO warranty remain protected under the Ferrari 7-Year Maintenance Program, which comes standard with all new models and transfers to any new owners who take possession during that time.
What Else is Included with the Ferrari Certified Pre-Owned Program?
The Ferrari Certified Pre-Owned program accepts a wide range of models, and even now-classic vehicles of up to fourteen years of age can be eligible for certification. Of course, models that are eligible for certification must then undergo a 190-point inspection. Models that cannot be restored to the Prancing Horse's highest standards cannot be sold as Ferrari Approved vehicles.
It's also important to note that Ferrari Approved vehicles are protected by Roadside Assistance for as long as the vehicle remains under warranty. That means you can undertake your next road trip from Milwaukee to Indianapolis—or anywhere else!—with complete confidence; your preferred authorized Ferrari service team will be there to help if anything at all goes wrong.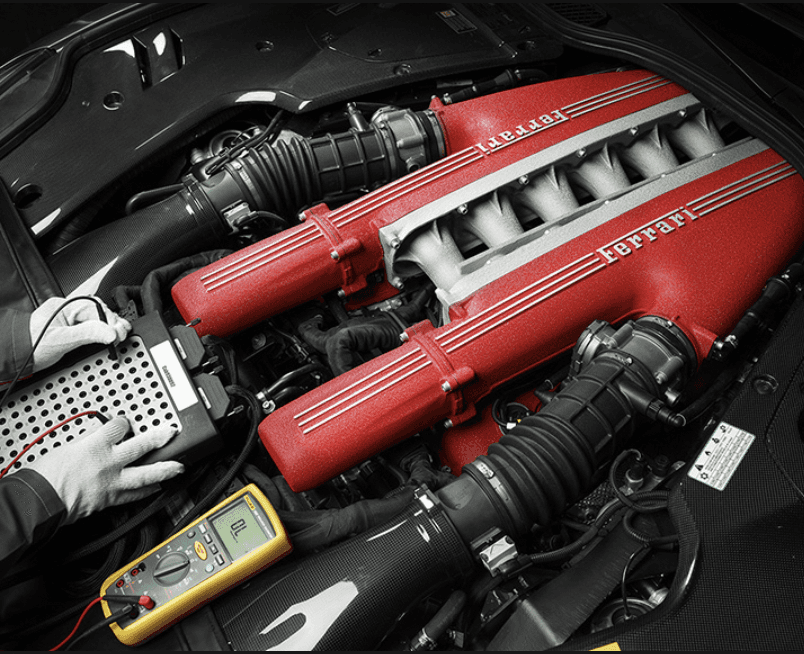 ---
Is the Ferrari CPO Warranty Transferable?
Ferrari Approved vehicles have a lot to offer, but is the Ferrari CPO warranty transferable to a second owner? In general, the warranty will follow the car rather than the owner—which means that your CPO warranty should be transferable in the event that you decide to resell, or buy from someone in a similar position. However, there may be exceptions. We recommend that you always resell and/or purchase your Ferrari CPO vehicles through an authorized retailer like Continental AutoSports Ferrari. This maximizes the likelihood of transferability—and potentially increases your return.
---
Find the Perfect Ferrari CPO Vehicle Today!
We want you to drive home in whichever pre-owned Ferrari feels like the best fit for your needs, and if you have more questions, we'd be happy to talk you through the ins and outs of the Ferrari Approved Certified Pre-Owned Program. Start a conversation today, or continue your research online with more of our in-depth Ferrari guides.
---
More From Continental AutoSports Ferrari
What is the Ferrari KC23? Well, it's nothing more than the newest installment to the highly spectacular Ferrari lineup. Any true Ferrari follower would instantly recognize the seamless blend of Ferrari's Vision Gran Turismo concept and its Le Mans winning 499P that come together to make this vehicle. If you're a lover of all things bespoke, this may just be the car for you and your Hinsdale and Milwaukee drives! Browse More Ferrari InformationContact Us Ferrari KC23: Notable Features and Highlights While there's not much that we can tell you about the Ferrari KC23 engine specs and…

Only one thing is more thrilling than joining a race and experiencing the excitement of competing out on the track, winning. Second is great, but a manufacturer like Ferrari isn't satisfied until they're on the top step of the podium. Curious to know more about what happened at the race? Take a look below and we'll fill you in on all the hot details. New Ferrari ModelsContact Us Scuderia Ferrari For the Win Even though it's not number one, the Ferrari drivers should be filled with nothing but pride for their thrilling performance at the 6 Hours of…

Something can be considered good, great even, but at Ferrari, we don't strive to settle for great. We're always working to improve our vehicles and reach new peaks of never before seen technology and unmatched performance. And that's all come together in the very first road-legal XX car: the 2025 Ferrari SF90 XX Stradale. Which, luckily for Hinsdale drivers, is also available in the SF90 XX Spider version as well. Browsw New Ferrari Models Contact Us Not One But Two: SF90 XX Stradale and SF90 XX Spider There is not an inch of this vehicle, in either model, that doesn't…