How Much Do Ferraris Cost?

A Ferrari's price depends on many things, most notably their scarcity and the number of models produced. Retail prices are one thing, but many Ferraris appreciate in value over time, and typically go for significantly above their retail price when they end up at auction.
---
What's the Typical Ferrari Price?
The retail prices of a Ferrari are more of a starting point than an end point for many of these vehicles, but here are the starting prices of some of Ferrari's recent offerings:
Ferrari 812 Superfast Retail Price: $335,000
Ferrari 812 GTS Retail Price: $404,494
Ferrari F8 Tributo Retail Price: $270,530
Ferrari F8 Spider Retail Price: $280,000
Ferrari Portofino M Retail Price: $226,000
Ferrari Roma Retail Price: $218,670
Ferrari SF90 Stradale Retail Price: $625,000
Retail price is only the start, though, especially when it comes to limited models.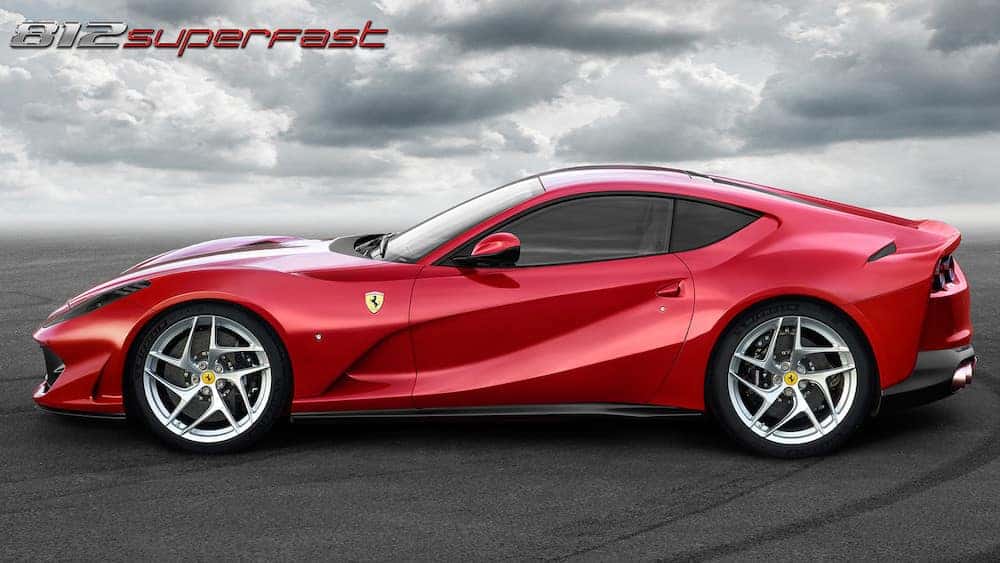 ---
What's the Most Expensive Ferrari?
In 2018, a 1963 Ferrari 250 GTO sold for a stunning $70 million. Bearing chassis number 4153 GT, there are several reasons why this vehicle fetched such a monumental price:
Only 39 250 GTO models were made, and it's exceedingly rare to encounter one that's available for sale.
This particular model was the winner of the 1964 Tour de France, with Lucien Bianchi and Georges Berger behind the wheel.
The vehicle is exceptionally well-preserved and mostly original.
This model has never sustained serious accident damage, despite its storied history.
The vehicle was submitted for Classiche documentation in 2012.
Prior to the sale of this particular GTO, the previous record for most expensive Ferrari was another 1963 GTO that sold for $52 million in 2013.
The $70 million GTO is believed to be the most expensive car in the entire world — we expect that the winner of the auction, Weathertech Founder and CEO David MacNeil, is enjoying his purchase immensely.
---
Which Ferrari to Buy as an Investment
Any of them! Due to their highly limited nature, any Ferrari has the potential to appreciate in value. That said, any limited model is likely to increase in value more sharply than those produced in greater numbers. For instance, there were only 500 LaFerrari models ever made, and they cost over $1 million USD when they were released — but in 2016, a LaFerrari was auctioned for almost $5 million! This is to say nothing of the 500th (and final) LaFerrari that was produced, which fetched $7 million at auction, leading to the declaration that it's "the most valuable 21st century automobile ever sold at auction."
You may also be able to expect price to rise on a similar curve with other limited models, such as the Monza SP1 and SP2 (500 total models), Scuderia Spider 16M (499 models made), 812 Competizione (999 models), and Competizione Aperta (599).
---
Learn More With Continental AutoSports Ferrari
All Ferraris are highly sought-after collectibles and works of automotive art — you cannot go wrong with any of them. Whether you're purchasing a Ferrari as a collector or as a driving enthusiast, we'll be happy to help, no matter where you are in the United States. From our dealership in the Chicago area, we frequently serve customers in Indianapolis, Milwaukee, and elsewhere, so don't hesitate to contact Continental AutoSports Ferrari to inquire about your next purchase!
More About Ferrari Models
Few experiences match that of putting the Ferrari 360 in drive. The raucous hum of the V8 engine produces an enchanting roar and top speeds of over 180 miles per hour that will delicately raise the pulse of even the most experienced of drivers. Offered with your choice of Spider (convertible) or Berlinetta (coupe) bodywork, you'll be certain to turn heads and drop jaws when you take to the Indianapolis streets in your Ferrari 360. While the scorching engine and exceptional good looks of this supercar are enough to convince any discerning driver to buy, the Ferrari 360 interior keeps…

The unveiling of Ferrari Purosangue brings plenty of reasons to celebrate. After all, it isn't every day that Maranello unveils an all-new vehicle with a naturally-aspirated 6.5-liter V12 engine. Explore the factors that set this model apart with our comprehensive guide to the Ferrari Purosangue specs—and then stop in to experience its unmistakable roar first-hand. Preview Interior Compare to Lamborghini Urus Ferrari Purosangue Engine Although Ferrari is in the process of electrifying its lineup, it doesn't have any plans to phase out internal combustion engines completely. The Purosangue's interior design may be pushing the Italian automaker in exciting new directions,…

Ferrari's race cars and production cars have always been in intimate dialogue with one another, and the latest effort from the Prancing Horse's Competizioni GT team is a case in point. The Ferrari 296 GT3 is an incredible development in the racing segment that has always been closest to the manufacturer's heart. This Ferrari race car's design picks up where the 296 GTB leaves off—but the GT3 achieves a lower center of gravity with a unique 120-degree V6 configuration, which houses the turbochargers within the mid-rear-mounted V. The aluminum frame and braking system are likewise all-new. Although the 296…