How to Store Your Ferrari

As winter approaches, proper supercar storage becomes a very real concern — protecting your investment from the elements is that much more important when the snowy season ushers away ideal driving conditions. Whether you're keeping your car at home or in a private storage facility over the winter, there are a few important things to keep in mind for proper Ferrari storage.
---
Shelter From Weather
To avoid the cold and damp of winter, you should store your Ferrari indoors, ideally in a climate-controlled structure. Wind and the elements can do tremendous damage to performance and luxury cars, so it's worth the expense to store indoors.
An indoor facility also provides greater security. A Ferrari is a special vehicle, and it's just one more way to protect your investment when you're unable to drive it. If you don't have the indoor facilities to properly store your vehicle on your own, you should consider seeking professional storage options.
---
Service
You should be certain all service and maintenance on your Ferrari is up to date before going into storage. Not only will this make it easy to enjoy your Prancing Horse once the weather allows, but it's also a great opportunity to proactively address any potential issues before they become a problem.
Fuel should be topped off before the vehicle is placed in storage to prevent condensation. While most modern supercars don't have gas tanks made of metal, classic cars can be prone to corrosion from the inside if condensation builds up.
Other fluids — such as oil and antifreeze — should be replaced and filled before short- or long-term storage. Fluid levels should be checked periodically during storage.
You should have a trickle charger connected to the battery during long-term car storage.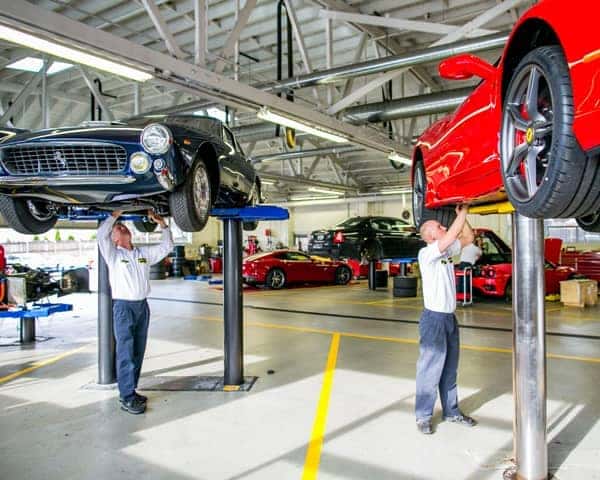 ---
Tires
It's a good idea to add approximately 10-15 psi of extra pressure to the tires, which can help prevent damage during storage.
---
Detailing
You should detail the vehicle — or have it detailed — before placing a cover over the vehicle. If you neglect this step, any dust or dirt on the bodywork can potentially damage the paint when the cover is placed.
Car covers should be lightweight, breathable, and tailored to fit the specific model.
The vehicle should also be air-dried before the cover is placed over it to prevent condensation and the potential of odor buildup.
One of the car's windows should be left open slightly to prevent condensation inside of the vehicle.
---
Learn More About Ferrari Storage at Continental AutoSports Ferrari
If you're a Ferrari owner looking for tips on proper care and storage techniques, turn to Continental AutoSports Ferrari. We can help by detailing the vehicle, providing for any service and maintenance needs, and advising you on proper storage techniques and facilities, whether you're a Chicago local or if you spend part of the year in Indianapolis or Milwaukee. Contact Continental AutoSports Ferrari today to discuss proper Ferrari care techniques.
---
More From Continental AutoSports Ferrari
Few experiences match that of putting the Ferrari 360 in drive. The raucous hum of the V8 engine produces an enchanting roar and top speeds of over 180 miles per hour that will delicately raise the pulse of even the most experienced of drivers. Offered with your choice of Spider (convertible) or Berlinetta (coupe) bodywork, you'll be certain to turn heads and drop jaws when you take to the Indianapolis streets in your Ferrari 360. While the scorching engine and exceptional good looks of this supercar are enough to convince any discerning driver to buy, the Ferrari 360 interior keeps…

The unveiling of Ferrari Purosangue brings plenty of reasons to celebrate. After all, it isn't every day that Maranello unveils an all-new vehicle with a naturally-aspirated 6.5-liter V12 engine. Explore the factors that set this model apart with our comprehensive guide to the Ferrari Purosangue specs—and then stop in to experience its unmistakable roar first-hand. Preview Interior Compare to Lamborghini Urus Ferrari Purosangue Engine Although Ferrari is in the process of electrifying its lineup, it doesn't have any plans to phase out internal combustion engines completely. The Purosangue's interior design may be pushing the Italian automaker in exciting new directions,…

Ferrari's race cars and production cars have always been in intimate dialogue with one another, and the latest effort from the Prancing Horse's Competizioni GT team is a case in point. The Ferrari 296 GT3 is an incredible development in the racing segment that has always been closest to the manufacturer's heart. This Ferrari race car's design picks up where the 296 GTB leaves off—but the GT3 achieves a lower center of gravity with a unique 120-degree V6 configuration, which houses the turbochargers within the mid-rear-mounted V. The aluminum frame and braking system are likewise all-new. Although the 296…