Who Designed the Ferrari Roma?

The Roma was designed by Flavio Manzoni and the Ferrari Centro Stile, and has in many ways been hailed as a return to form for the Prancing Horse's design efforts. With a timeless design that hearkens back to Ferrari Grand Tourers of yesteryear with modern engineering and technology to propel it to the front of the pack, the Roma is a welcome addition to the Ferrari portfolio. And it's more than just its stunning curves that have drawn high praise from critics: the Roma comes equipped with a turbocharged V8 from the same family of engines that has been named International Engine of the Year four times in a row.
---
What is Ferrari Centro Stile?
Ferrari Centro Stile is the home of all of the Prancing Horse's design-related activities. Over 100 designers and automotive engineers work together under one roof at this facility in Maranello to shape the future of automotive design. The facility itself was created by the Ferrari Design Team, which is led by Ferrari's Head of Design, Flavio Manzoni.
In addition to being the center of Ferrari's designs for the present and future, Centro Stile also features the Ateliers, where clients seeking to buy their own Ferrari can preview a wide range of customization options — and do so in the same facility that houses future Ferrari designs that haven't yet been revealed.
---
Critical Reception of the Roma's Design
The colorful Ferrari Roma was designed to showcase La Nuova Dolce Vita, or "the new sweet life," and it's been a huge hit with the critics:
"Ferrari Roma brings classic Italian elegance back to Ferrari design." – Design News
"The Roma is perhaps the loveliest, cleanest, most compelling Ferrari design to roll out of Maranello in decades." – GQ
"The exterior is exceptionally sleek, defined by clean lines, the most modern front end we've seen on a Ferrari, including sharp full-LED adaptive headlights with a horizontal light strip." – Car and Driver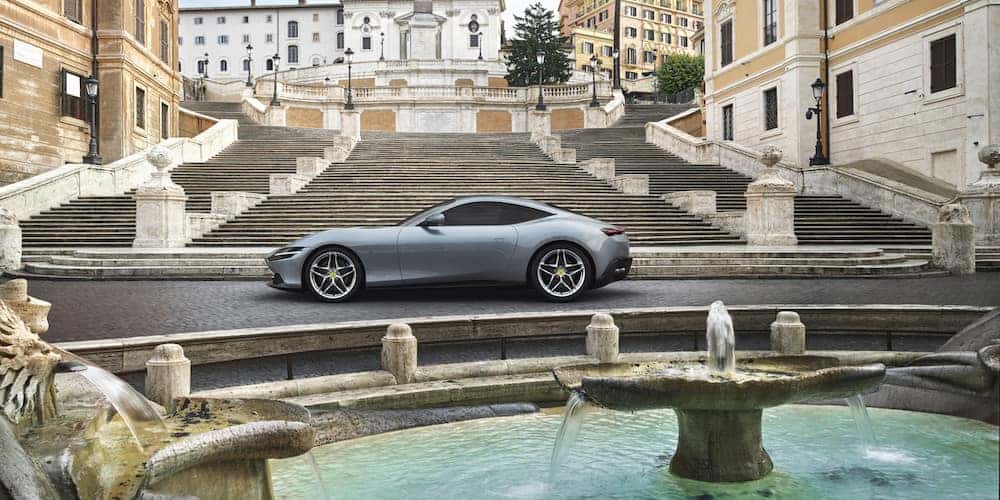 ---
Learn More About the Roma With Continental AutoSports Ferrari
The Roma is an incredible vehicle with a design sensibility that elevates it over other cars on the road (like the Bentley Continental), and it will be sharing its platform with the upcoming Purosangue SUV. Interested in inquiring about buying one of your own? Contact Continental AutoSports Ferrari to get started. While we're based in the Chicago area, we're happy to help prospective buying from Indianapolis, Milwaukee, and throughout the United States.
---
More From Continental AutoSports Ferrari
Few experiences match that of putting the Ferrari 360 in drive. The raucous hum of the V8 engine produces an enchanting roar and top speeds of over 180 miles per hour that will delicately raise the pulse of even the most experienced of drivers. Offered with your choice of Spider (convertible) or Berlinetta (coupe) bodywork, you'll be certain to turn heads and drop jaws when you take to the Indianapolis streets in your Ferrari 360. While the scorching engine and exceptional good looks of this supercar are enough to convince any discerning driver to buy, the Ferrari 360 interior keeps…

The unveiling of Ferrari Purosangue brings plenty of reasons to celebrate. After all, it isn't every day that Maranello unveils an all-new vehicle with a naturally-aspirated 6.5-liter V12 engine. Explore the factors that set this model apart with our comprehensive guide to the Ferrari Purosangue specs—and then stop in to experience its unmistakable roar first-hand. Preview Interior Compare to Lamborghini Urus Ferrari Purosangue Engine Although Ferrari is in the process of electrifying its lineup, it doesn't have any plans to phase out internal combustion engines completely. The Purosangue's interior design may be pushing the Italian automaker in exciting new directions,…

Ferrari's race cars and production cars have always been in intimate dialogue with one another, and the latest effort from the Prancing Horse's Competizioni GT team is a case in point. The Ferrari 296 GT3 is an incredible development in the racing segment that has always been closest to the manufacturer's heart. This Ferrari race car's design picks up where the 296 GTB leaves off—but the GT3 achieves a lower center of gravity with a unique 120-degree V6 configuration, which houses the turbochargers within the mid-rear-mounted V. The aluminum frame and braking system are likewise all-new. Although the 296…