Ferrari Portofino Dimensions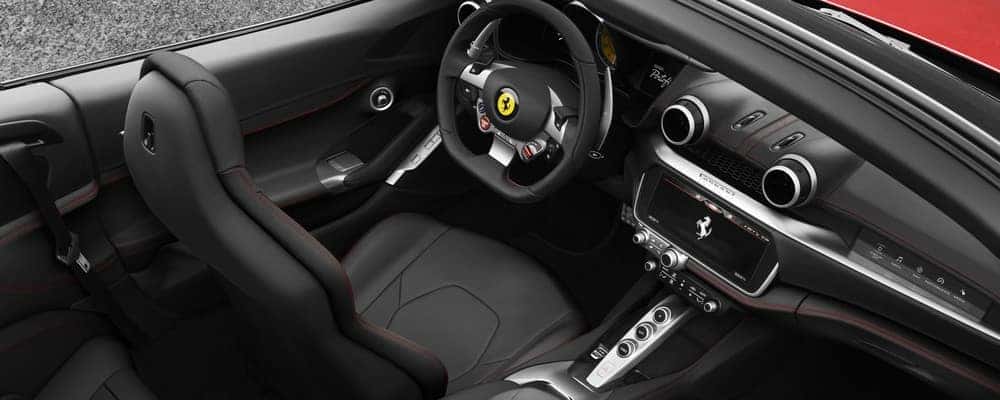 A GT named after one of the most beautiful towns on the Italian Riviera, the Ferrari Portofino is a purebred performer, but it also doesn't sacrifice comfort or versatility in the name of world-class performance and a 200-mph top speed. This supercar is proof that you can have it all, and the Ferrari Portofino's dimensions speak to that.
Interior Dimensions: Ferrari Portofino
Passenger Capacity: 4
Trunk Capacity: 10.3 cubic feet
With seating for four people, a retractable hardtop, and the roar of a twin-turbocharged 3.9L engine, this Prancing horse provides ample interior space while keeping you and your passengers — in the front and rear seats — intimately connected to the road and the driving experience. 18-way electronically adjustable front seats make the experience that much better, allowing you to customize your driving experience and enjoy the vehicle's output to its fullest.
Exterior Dimensions of the Portofino
Length: 180.6 inches
Width: 76.3 inches
Height: 51.9 inches
Wheelbase: 105.1 inches
Front Track: 64.3 inches
Rear Track: 64.4 inches
The Portofino is much more lithe and elegant than competitors like the Bentley Continental and the Aston Martin Vantage, proving that elegance, speed, and practicality can all coexist. It's as at-home on the track as it is on the road.
Inquire About the Ferrari Portofino With Continental AutoSports Ferrari
The Portofino is a worthy successor to the storied Ferrari California T, and the critics agree. It's a thrilling vehicle, and you can inquire about buying your own Ferrari when you contact Continental AutoSports Ferrari. We're always available to assist enthusiasts in Chicago and Indianapolis from our home base of Chicagoland, but we also serve drivers throughout the country.