Ferrari Portofino Interior Highlights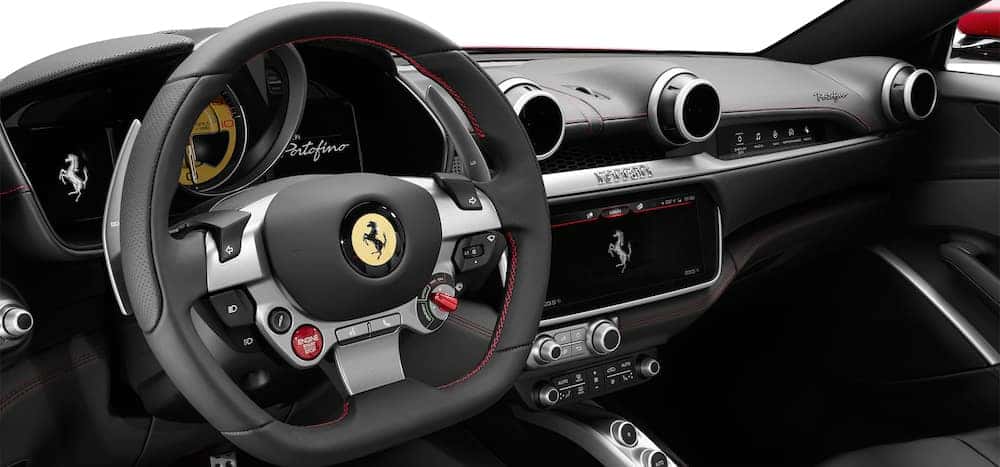 The Ferrari Portofino is a monster on the road and track, with top speeds of almost 200 mph and the ability to go from 0 to 60 mph in 3.5 seconds — but the Ferrari Portofino's interior is also amazingly comfortable and intuitive. It starts with the cockpit's design and extends through the features and technology available to you.
Cockpit Design

With both front and rear seats, and with room for four passengers, this convertible Prancing Horse already stands out among other supercars, but it's the interior versatility that really elevates the Portofino's interior to a model that is as exceptional as a daily driver around Chicago or Milwaukee as it is burning up the track.
The cockpit has been completely redesigned from that of the Ferrari California. The steering wheel is more compact to make it easier to see the instrument cluster, while the dashboard features two five-inch displays to show crucial vehicle data. Everything has been reshaped with the intent of making everything easier to access.
The Portofino's new seats place an emphasis on making everyone in the vehicle comfortable, and are the fruits of a dedicated research study conducted by Ferrari. Not only is the model available 18-way electronically adjustable front seats, but they also feature a backrest designed to increase legroom for rear passengers. These adjustable seats offer fine-grained control over their position, with the ability to adjust their positions via the infotainment display to find your perfect driving position.

Amenities
The Portofino features more than just comfortable seats and ample trunk space whether the top is up or down: it's loaded with amenities designed to make every journey a comfortable one.  Some of the highlights include:
A wind deflector that reduces airflow by up to 30% when the top is down.
An air conditioning system that's functional with the top up or down.
Apple CarPlay compatibility makes it easy to take advantage of the features of your smartphone from behind the wheel of your Prancing Horse.
An available premium JBL audio system enables you to enjoy the ideal driving soundtrack to accompany the famous roar of your Ferrari's engine.
Technology
With the Portofino, Ferrari's interior design team has added tech features to enhance the experience of both the driver and the passenger. A 10.2-inch touchscreen infotainment display gives you easy access to the car's multimedia features, while a touchscreen passenger display provides access to vehicle performance data. The Portofino makes it easy to access vehicle data and control your multimedia environment.
Inquire About Buying a Ferrari Portofino With Continental AutoSports Ferrari
The Portofino's reviews attest to this models' blending of supercar performance with everyday practicality, and the exceedingly comfortable interior is a big part of the praise. Whether you're in Indianapolis or are local to Chicagoland, you can inquire about buying your own Ferrari when you contact Continental AutoSports Ferrari.
More About the Ferrari Portofino
A GT named after one of the most beautiful towns on the Italian Riviera, the Ferrari Portofino is a purebred performer, but it also doesn't sacrifice comfort or versatility in the name of world-class performance and a 200-mph top speed. This supercar is proof that you can have it all, and the Ferrari Portofino's dimensions speak to that. View Ferrari Inventory Contact Us Interior Dimensions: Ferrari Portofino Passenger Capacity: 4 Trunk Capacity: 10.3 cubic feet With seating for four people, a retractable hardtop, and the roar of a twin-turbocharged 3.9L engine, this Prancing horse provides ample interior space while keeping…

The Ferrari Portofino is a monster on the road and track, with top speeds of almost 200 mph and the ability to go from 0 to 60 mph in 3.5 seconds — but the Ferrari Portofino's interior is also amazingly comfortable and intuitive. It starts with the cockpit's design and extends through the features and technology available to you. Ferrari Inventory Apply for Financing Contact Us Cockpit Design With both front and rear seats, and with room for four passengers, this convertible Prancing Horse already stands out among other supercars, but it's the interior versatility that really elevates the Portofino's…

Named after one of the Italian Riviera's most beautiful towns, it's fitting that the Ferrari Portofino is one of the most beautiful cars on the planet. Like every Prancing Horse, though, this supercar offers more than just stunning good looks — a glance at the Ferrari Portofino specs reveals a car that's built to offer world-class performance and comfort features. Ferrari Inventory Apply for Financing Contact Us Output Engine: Twin Turbo 3.9L V8 Horsepower: 591 hp @ 7,500 rpm Torque: 560 lb-ft The Portofino's engine is a marvel of modern engineering, a Twin Turbo 3.9L V8 that produces 591 horsepower…