Ferrari Portofino M Specs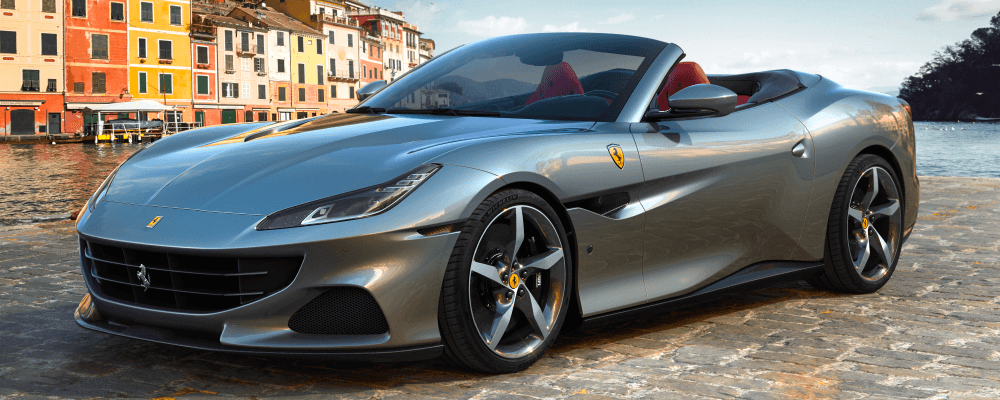 What does the M stand for in the new Portofino? Modificata, or "Modified." Essentially, it takes a beloved supercar and makes it even better. And that becomes clear when you compare the Ferrari Portofino M's specs to the original Portofino — it has a number of refinements, and pushes the car's impressive performance even further.
Portofino M Engine Specs
Engine: 3.9L Twin-Turbo V8
Horsepower: 612 hp
Torque: 561 lb-ft
Max Engine Speed: 7,500 rpm
Compression Ratio: 9.45:1
Top Speed: 200 mph
Acceleration: 0 – 60 mph in 3.45 seconds
While the Ferrari Portofino M's engine specifications are similar to those of its predecessor, but it's also got some improvements. For starters, it's got an 8-speed dual-clutch transmission, while the original Portofino offers a 7-speed. The M also offers an additional 21 hp and shaves .05 seconds off of standard Portofino's 0-60-mph time, hitting that mark in just 3.45 seconds.
Portofino M Dimensions and Weight
Width: 76.29 inches (1,938 mm)
Length: 180.86 inches (4,594 mm)
Height: 54.645 inches (1,388 mm)
Wheelbase: 105.118 inches (2,670 mm)
Front Track: 64.291 inches (1,633 mm)
Rear Track: 64.37 inches (1,635 mm)
Dry Weight: 3,406.142 pounds (1,545 kg)
Fuel Tank Capacity: 21.133 gallons (80L)
Inquire About the Portofino M With Continental AutoSports Ferrari
Ferrari's commitment to refining its vehicles shines through in this Prancing Horse. The Ferrari Portofino M's specs makes it clear that it's offering more of a great thing, and it provides an exceptional driving experience on both the road and the track. If you're looking for one, we can help, whether you're coming from Indianapolis, Milwaukee, or anywhere else in the country. In addition to our inventory of pre-driven Ferraris, we can help facilitate the purchase of a new Ferrari. To get started, contact Continental AutoSports Ferrari online.
More About the Portofino M