Key Ferrari Portofino Specs

Named after one of the Italian Riviera's most beautiful towns, it's fitting that the Ferrari Portofino is one of the most beautiful cars on the planet. Like every Prancing Horse, though, this supercar offers more than just stunning good looks — a glance at the Ferrari Portofino specs reveals a car that's built to offer world-class performance and comfort features.
Output
Engine: Twin Turbo 3.9L V8
Horsepower: 591 hp @ 7,500 rpm
Torque: 560 lb-ft
The Portofino's engine is a marvel of modern engineering, a Twin Turbo 3.9L V8 that produces 591 horsepower and 560 lb-ft of torque — that's 39.4 more horsepower than the California T, which it replaced in the Prancing Horse lineup. This powerplant is part of Ferrari's engine family that was named International Engine of the Year in 2016, 2017, and 2018, and displays Ferrari's signature soundtrack, making the car an aural delight on the track or on the highways around Chicago.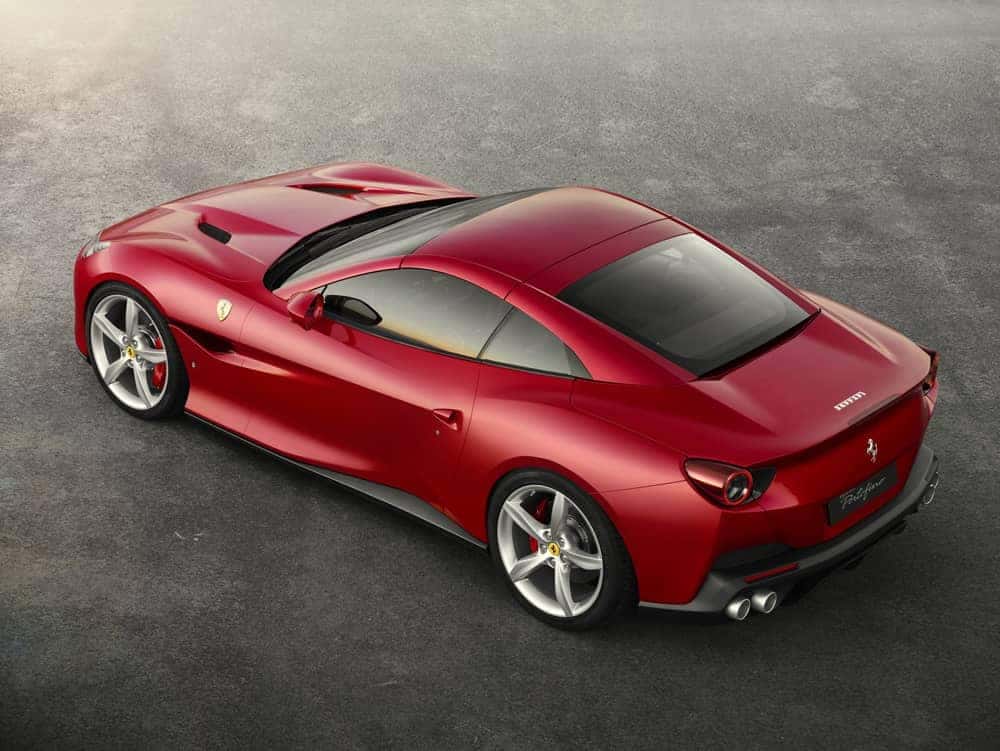 Top Speed
Top Speed: 200 mph
Acceleration: 0 – 60 mph in 3.5 seconds
The Portofino boasts several improvements over the California T that help it jump off the line and reach higher speeds, including a one-piece-cast exhaust header that improves throttle response with zero turbo lag, as well as a Variable Torque Management system. To help you keep a handle on the power of this Prancing Horse, the Portofino comes equipped with Ferrari's third-generation electronic rear differential (E-Diff3) with Electric Power Steering (EPS).
Aerodynamics
The Portofino's design is intended not only to evoke the beautiful town for which it is named, but also to provide incredible aerodynamics that help it slice through the air at high speeds. The two-box fastback design is headed by a large grille stretching nearly the full width of the car, while the LED headlights conceal an air intake that exits along the car's flanks to reduce drag. The car features a similar strategy in the rear, where the taillights conceal the housing for the retractable hard top, which can be raised and lowered at low speeds.
Inquire About Purchasing a Portofino With Continental AutoSports Ferrari
The Ferrari Portofino's specs solidify it as a modern masterpiece, and you'll agree when you spend some time behind the wheel. To inquire about purchasing your own Portofino, contact Continental AutoSports Ferrari. While we're based in Chicagoland, we welcome enthusiasts from Indianapolis, Milwaukee, and the rest of the United States, so don't hesitate to reach out.
More About the Portofino
A GT named after one of the most beautiful towns on the Italian Riviera, the Ferrari Portofino is a purebred performer, but it also doesn't sacrifice comfort or versatility in the name of world-class performance and a 200-mph top speed. This supercar is proof that you can have it all, and the Ferrari Portofino's dimensions speak to that. View Ferrari Inventory Contact Us Interior Dimensions: Ferrari Portofino Passenger Capacity: 4 Trunk Capacity: 10.3 cubic feet With seating for four people, a retractable hardtop, and the roar of a twin-turbocharged 3.9L engine, this Prancing horse provides ample interior space while keeping…

The Ferrari Portofino is a monster on the road and track, with top speeds of almost 200 mph and the ability to go from 0 to 60 mph in 3.5 seconds — but the Ferrari Portofino's interior is also amazingly comfortable and intuitive. It starts with the cockpit's design and extends through the features and technology available to you. Ferrari Inventory Apply for Financing Contact Us Cockpit Design With both front and rear seats, and with room for four passengers, this convertible Prancing Horse already stands out among other supercars, but it's the interior versatility that really elevates the Portofino's…

Named after one of the Italian Riviera's most beautiful towns, it's fitting that the Ferrari Portofino is one of the most beautiful cars on the planet. Like every Prancing Horse, though, this supercar offers more than just stunning good looks — a glance at the Ferrari Portofino specs reveals a car that's built to offer world-class performance and comfort features. Ferrari Inventory Apply for Financing Contact Us Output Engine: Twin Turbo 3.9L V8 Horsepower: 591 hp @ 7,500 rpm Torque: 560 lb-ft The Portofino's engine is a marvel of modern engineering, a Twin Turbo 3.9L V8 that produces 591 horsepower…