Ferrari Roma Colors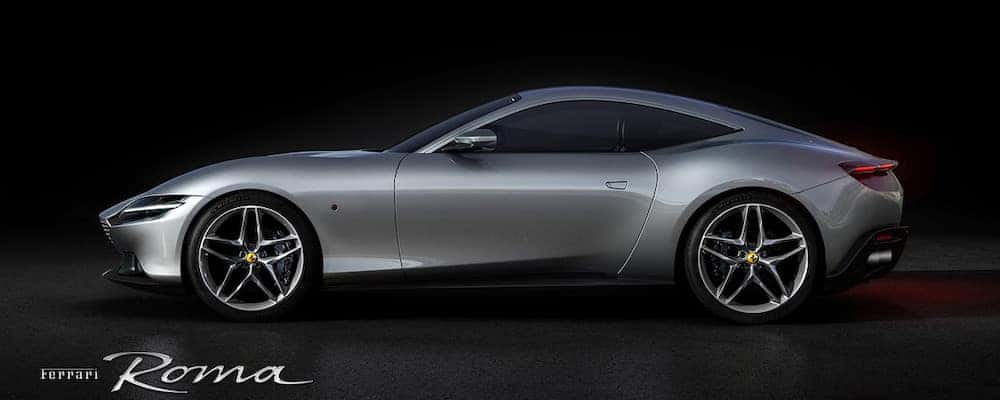 Designed by Flavio Manzoni and Ferrari Centro Stile, the Roma is a grand tourer with an impeccable design, but there's also plenty of room for customization. Enter the Ferrari Roma's color options, which include an array of exterior and interior shades to match your preferences alongside other options like an interior and exterior carbon fiber upgrades. Not all Ferraris are red, and these stunning Roma colors speak to that!
Ferrari Roma Exterior Colors
The Ferrari Roma's exterior color options include:
Roma Solid Colors
Giallo Modena
Rosso Scuderia
Rosso Corsa
Rosso Mugello
Bianco Avus
Nero
Blu Pozzi
Roma Metallic Colors
Grigio Ingrid
Grigio Alloy
Argento Nurburgring
Grigio Titanio Metall
Grigio Silverstone
Nero Daytona
Blu Abu Dhabi
Blu Tour De France
Roma Historical Colors
Rosso Dino
Rosso Fiorano
Grigio Ferro
Avorio
Canna Di Fucile
Grigio Scuro
Verde British
Blu Scozia
Blu Swaters
Ferrari Roma Interior Colors
The Ferrari Roma's interior color options include:
Tortora
Charcoal
Carta Da Zucchero
Blu Medio
Blu Sterling
Nero
Terra Bruciata
Iroko
Cioccolato
Bordeaux
Rosso Ferrari
Cuoio
Beige Tradizione
Sabbia
Crema
Custom Roma Color Options
In addition to the color options above, the Ferrari Tailor Made Personalization Programme provides the opportunity for clients to customize even further with hundreds of rare and bespoke interior and exterior colors and options. You may even create your own color!
Find the Right Roma Color With Continental AutoSports Ferrari
The interior and exterior Ferrari Roma colors are all stunning, and we'll be delighted to help you find the shade that's right for you. Contact us today to inquire about buying a new or used Ferrari, whether you're in Indianapolis, Milwaukee, or elsewhere in the United States. Our dealership may be based in the Chicago area, but we've helped enthusiasts throughout the United States secure the Prancing Horse of their dreams. Contact Continental AutoSports Ferrari to get started.
More From Continental AutoSports Ferrari
The unveiling of Ferrari Purosangue brings plenty of reasons to celebrate. After all, it isn't every day that Maranello unveils an all-new vehicle with a naturally-aspirated 6.5-liter V12 engine. Explore the factors that set this model apart with our comprehensive guide to the Ferrari Purosangue specs—and then stop in to experience its unmistakable roar first-hand. Preview Interior Compare to Lamborghini Urus Ferrari Purosangue Engine Although Ferrari is in the process of electrifying its lineup, it doesn't have any plans to phase out internal combustion engines completely. The Purosangue's interior design may be pushing the Italian automaker in exciting new directions,…

Ferrari's race cars and production cars have always been in intimate dialogue with one another, and the latest effort from the Prancing Horse's Competizioni GT team is a case in point. The Ferrari 296 GT3 is an incredible development in the racing segment that has always been closest to the manufacturer's heart. This Ferrari race car's design picks up where the 296 GTB leaves off—but the GT3 achieves a lower center of gravity with a unique 120-degree V6 configuration, which houses the turbochargers within the mid-rear-mounted V. The aluminum frame and braking system are likewise all-new. Although the 296…

Relatively little is known about the vehicle that Ferrari will enter into next year's 24-hour endurance race at Le Mans, referred to as the Ferrari 499P, but its full debut is right around the corner. It's been 50 years since the Prancing Horse's last entry as a works team into the race's top category, so enthusiasts everywhere are understandably waiting at the edges of their seats for clear details. Here's what we know so far: What is a Hypercar? Ferrari Returns to Le Mans 499P: A Genuine Ferrari —Hypercar The "Le Mans Hypercar" (or LMH) category replaces the LMP1 class,…