The Ferrari Roma's Engine is a Marvel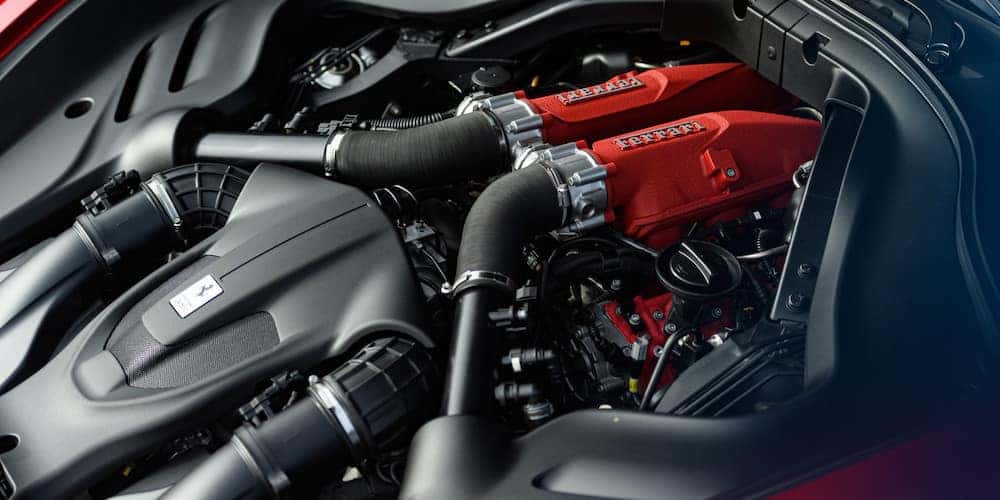 The Ferrari Roma is all about La Nuova Dolce Vita, or "the new sweet life," and that's obvious when you get inside of the car. What's under the hood is also impressive: the Ferrari Roma's engine is a piece of automotive art, and that goes beyond its impressive specifications. The ability to reach 199 mph is wonderful in such a comfortable grand tourer, but it's only possible because of impeccable engineering — something that this front-engine, rear-wheel-drive supercar boasts in spades.
Ferrari Roma Engine Details
The Roma is powered by a turbocharged 3.9L V8 engine that channels its considerable power through an eight-speed dual-clutch automatic transmission. That power amounts to 611 hp @ 7,500 rpm and 561 lb-ft of torque @ 5,750 rpm, resulting in the ability to jump from 0 – 62 mph in 3.4 seconds and reach a top speed of 199 mph.
The engine itself boasts a storied lineage: it's part of a family of Ferrari powertrains that have been named International Engine of the Year on multiple occasions, but even then, it has a few new tricks up its sleeve. The Roma's engine adds new bypass valves, Variable Boost Management, and the removal of silences to give this supercar its own unique soundtrack.
Other Performance Features
The Roma's throaty roar isn't just bluster, though: this Prancing Horse has plenty of other performance-focused features to support the monster under the hood. It's able to deliver near-instantaneous throttle response courtesy of its twin-scroll technology, compact turbines, a flat-plane crankshaft, and a single-piece cast exhaust. There's also zero turbo lag. Meanwhile, the car's Variable Boost Management keeps fuel consumption and emissions low without compromising performance — in fact, this feature creates a feeling of smooth, consistent pickup by giving the vehicle a steeper torque curve. Finally, the Roma boasts a forced induction air-intake system with water-cooled turbochargers and two air-to-air intercoolers.
Experience the Roma's Impressive Engine With Continental AutoSports Ferrari
Like the beating heart of every Prancing Horse, the Ferrari Roma's engine is a marvel, and it truly must be experienced to comprehend how sweet it is. If you're interested in buying a Ferrari, we can help. While Continental AutoSports Ferrari calls the Chicago area home, we've facilitated purchases for enthusiasts from Indianapolis, Milwaukee, and throughout the United States. Contact Continental AutoSports Ferrari today to inquire about the Roma!
More From Continental AutoSports Ferrari
What is the Ferrari KC23? Well, it's nothing more than the newest installment to the highly spectacular Ferrari lineup. Any true Ferrari follower would instantly recognize the seamless blend of Ferrari's Vision Gran Turismo concept and its Le Mans winning 499P that come together to make this vehicle. If you're a lover of all things bespoke, this may just be the car for you and your Hinsdale and Milwaukee drives! Browse More Ferrari InformationContact Us Ferrari KC23: Notable Features and Highlights While there's not much that we can tell you about the Ferrari KC23 engine specs and…

Only one thing is more thrilling than joining a race and experiencing the excitement of competing out on the track, winning. Second is great, but a manufacturer like Ferrari isn't satisfied until they're on the top step of the podium. Curious to know more about what happened at the race? Take a look below and we'll fill you in on all the hot details. New Ferrari ModelsContact Us Scuderia Ferrari For the Win Even though it's not number one, the Ferrari drivers should be filled with nothing but pride for their thrilling performance at the 6 Hours of…

Something can be considered good, great even, but at Ferrari, we don't strive to settle for great. We're always working to improve our vehicles and reach new peaks of never before seen technology and unmatched performance. And that's all come together in the very first road-legal XX car: the 2025 Ferrari SF90 XX Stradale. Which, luckily for Hinsdale drivers, is also available in the SF90 XX Spider version as well. Browsw New Ferrari Models Contact Us Not One But Two: SF90 XX Stradale and SF90 XX Spider There is not an inch of this vehicle, in either model, that doesn't…