Ferrari Roma Interior Highlights


During the Ferrari Roma's debut, interior details were easy to overlook — after all, it's an incredible looking car, emphasizing elegance and aerodynamic efficiency, and its specifications show that it offers the world-class performance expected of every Prancing Horse. In true Ferrari fashion, the Roma's interior is also a work of art, as much a celebration of Ferrari's aesthetic as a monument to functionality for both driver and passenger.
Design
Designed by Flavio Manzoni and the Ferrari Centro Stile to pay tribute to the Ferrari Grand Tourers of the past, the new Roma's interior showcases a modern evolution of the Dual Cockpit concept. The design is symmetrical, with functions distributed across the cabin. This symmetry is not only meant to enhance the safety of both driver and passenger, but also to create a thrilling experience for each: the driver has everything they need at their fingertips as they pilot a world-class vehicle; the passenger is similarly situated with a thrilling view of the road.
The Ferrari Roma's interior combinations also offer nearly limitless possibilities. In addition to being able to choose between standard, Daytona, and Diamond Stitching seats, there are a stunning array of interior color options for the upholstery, including Tortora, Beige Tradizione, Carta Da Zucchero, and Blu Medio. There are even interior carbon fiber options.
Technology and Amenities
Intuitive and elegant, being inside the Roma means that you want for nothing. This shows in the vehicle's amenities, which include:
Digital Instrument Cluster: Provides important driving data, and responds to haptic controls on the Roma's steering wheel.
Passenger Display: This 8.4-inch full-color touchscreen gives passengers access to performance data as well as control over some vehicle systems.
8.4-Inch Center Touchscreen: This screen offers easy access to entertainment options as well as climate controls and other vehicle settings.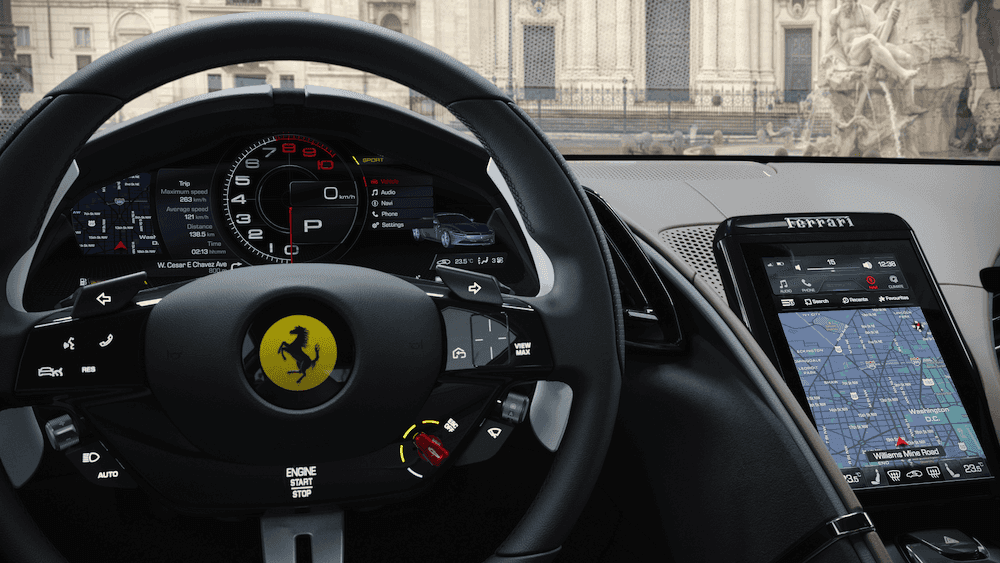 Inquire About the Ferrari Roma With Continental AutoSports Ferrari
With a top speed of 200 mph, the Roma is as thrilling and the road as it is on the eyes. But it doesn't have to just be a stunning presence on the roads of Indianapolis and Milwaukee — you can enjoy the Roma from the inside when you inquire about buying your own Ferrari. Contact Continental AutoSports Ferrari to learn how you can purchase your dream vehicle — we're based near Chicago, but we serve enthusiasts throughout the United States!