Ferrari Roma Review Highlights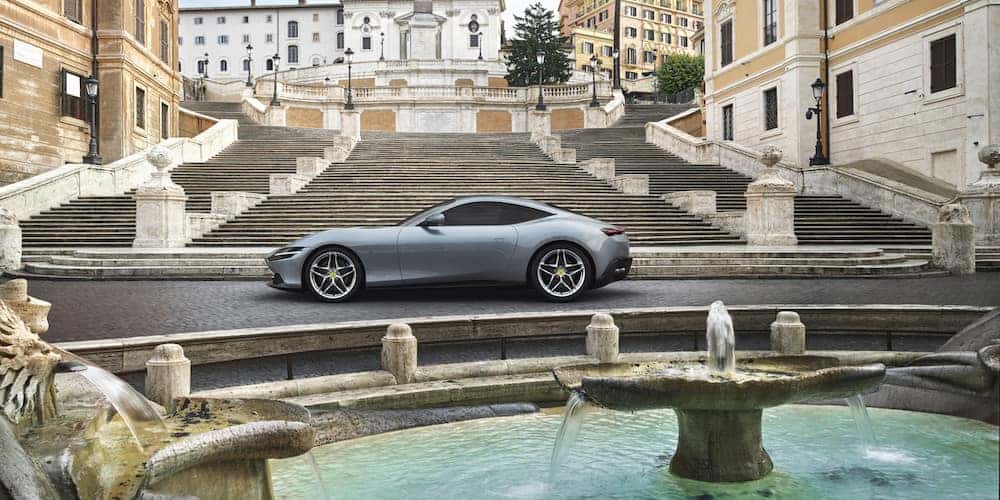 The Roma is a statement: an impeccably designed supercar that pays homage to Ferrari grand tourers of the past while offering thoroughly modern performance on the road and the track. It's one of the most attractive vehicles to hit the market in recent memory, it has the specifications to keep up on the track, and it's supremely comfortable — what more could you want? Clearly the critics writing Ferrari Roma reviews agree that this GT is a massive success — just take a look at what they're saying.
Car and Driver's Ferrari Roma Review
Car and Driver notes immediately that "the stunning Roma coupe brings new levels of elegance, luxury, and technology to a front-engine Ferrari grand tourer."
Car and Driver reserves particular praise for the Roma's performance at both moderate and high speeds. The review notes that, "Driven moderately, the Roma is a superb cruiser that doesn't really tempt the driver to hunt down and pass every other car on the road," but adds that, "When you do decide to drive fast, the Roma turns into a serious, extremely powerful sports car." They note that acceleration is smooth, fast, and thrilling, with a top speed befitting Ferrari's best. More importantly, it drives like a dream, with "agile yet ultimately manageable handling" and "steering [that] manages to convey the feedback that has gone missing in many modern cars."
In other words, the Roma harnesses the full power of its twin-turbo 3.9L V8 engine without ever overwhelming the driver.
Motor Trend's Ferrari Roma Review
Motor Trend's Ferrari Roma road test led them to a succinct conclusion: "this Ferrari GT is in every way a thoroughly modern interpretation of a classic automotive concept, cleverly engineered and superbly executed."
In addition to praising its performance and comfort features, Motor Trend's take on the Roma praises its design, both in terms of aesthetics and aerodynamic performance. In particular, the review praises the Roma's vortex generators and its active spoiler, which has three settings: Low Drag, Medium Downforce, and High Downforce. The spoiler's settings are influenced by two things: the car's speed and its manettino settings.
Ultimately, though, Motor Trend leaves us with this: "The 2021 Ferrari Roma is a fast and glamorous GT, thoroughly engaging to drive, whether it be mooching down to the coffee shop or charging up a mountain pass. But it's also a Ferrari you can genuinely use every day, with all the comfort and connectivity you need and a seven-year maintenance program included in the price."
Top Gear's Ferrari Roma Review
Top Gear declares that "the Roma represents a renaissance for a Ferrari that embodies understated luxury rather than shrieking its potential from terracotta-clad rooftops, that posits elegance ahead of razor-sharp handling smarts." But that's not all they had to say:
On the Roma's design: "the Roma is a progressive looking, beautifully proportioned car."
On the Roma's performance: "a deeply satisfying car to drive, both quickly… and not-so-quickly, with wonderfully linear steering, fantastic composure, and terrific brakes."
On the Roma's interior: "The cabin itself has a nice ebb and flow to it, and is meant to involve the passenger more in the experience…. It's a lovely place to sit, no question."
Give Us Your Roma Review at Continental AutoSports Ferrari
Much more impressive than other GT cars like Aston Martin DB11, Porsche 911, and Bentley Continental, the Ferrari Roma reviews speak to its excellence. Are you interested in buying a Ferrari of your own? We can help, whether you're based in Indianapolis, Milwaukee, or elsewhere in the United States. We've helped enthusiasts secure the Prancing Horse of their dreams from our Chicagoland dealership, and we're eager to help you as well! Contact Continental AutoSports Ferrari to get started.
More From Continental AutoSports Ferrari
The unveiling of Ferrari Purosangue brings plenty of reasons to celebrate. After all, it isn't every day that Maranello unveils an all-new vehicle with a naturally-aspirated 6.5-liter V12 engine. Explore the factors that set this model apart with our comprehensive guide to the Ferrari Purosangue specs—and then stop in to experience its unmistakable roar first-hand. Preview Interior Compare to Lamborghini Urus Ferrari Purosangue Engine Although Ferrari is in the process of electrifying its lineup, it doesn't have any plans to phase out internal combustion engines completely. The Purosangue's interior design may be pushing the Italian automaker in exciting new directions,…

Ferrari's race cars and production cars have always been in intimate dialogue with one another, and the latest effort from the Prancing Horse's Competizioni GT team is a case in point. The Ferrari 296 GT3 is an incredible development in the racing segment that has always been closest to the manufacturer's heart. This Ferrari race car's design picks up where the 296 GTB leaves off—but the GT3 achieves a lower center of gravity with a unique 120-degree V6 configuration, which houses the turbochargers within the mid-rear-mounted V. The aluminum frame and braking system are likewise all-new. Although the 296…

Relatively little is known about the vehicle that Ferrari will enter into next year's 24-hour endurance race at Le Mans, referred to as the Ferrari 499P, but its full debut is right around the corner. It's been 50 years since the Prancing Horse's last entry as a works team into the race's top category, so enthusiasts everywhere are understandably waiting at the edges of their seats for clear details. Here's what we know so far: What is a Hypercar? Ferrari Returns to Le Mans 499P: A Genuine Ferrari —Hypercar The "Le Mans Hypercar" (or LMH) category replaces the LMP1 class,…