Key Ferrari Roma Specs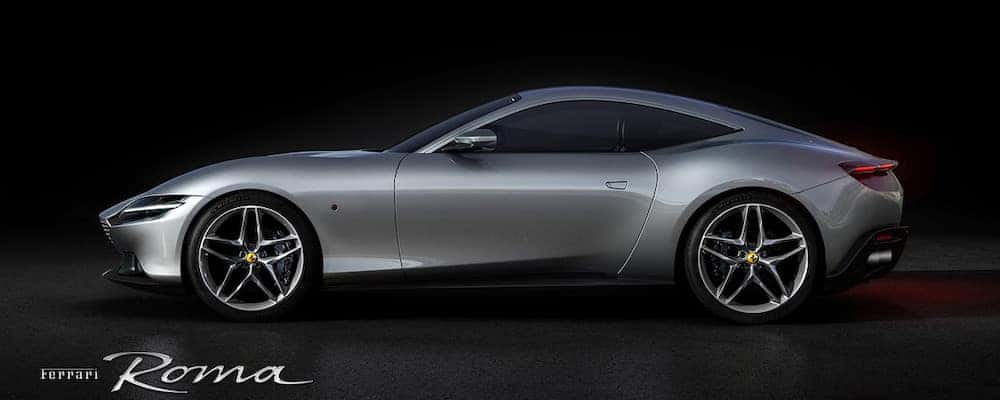 Ferrari's newest supercar is named for the capital of Italy: Rome. The Ferrari Roma is a grand tourer that's designed to be an easy-to-drive supercar. It does not have the raw power or cutting-edge aerodynamics of the SF90 Stradale or F8 Tributo — rather, the Roma is designed to be, in the words of Flavio Manzioni, Ferrari's senior vice president of design, "more elegant, and more simple — not characterized by a form which is affected by several technical solutions, which are necessary to reach a certain objective in terms of performance." While the design recalls Ferraris from the 1950s and 60s, it nonetheless offers performance typical of modern Prancing Horses.
Roma Engine Specs
Engine: Turbocharged 3.9L V8
Horsepower: 611 hp @ 7,500 rpm
Torque: 561 lb-ft @ 5,750 rpm
Transmission: Eight-speed dual-clutch automatic
Top Speed: 199 mph
Acceleration: 0 – 62 mph in 3.4 seconds
The Roma's V8 engine is a member of the family of Ferrari powertrains that have won International Engine of the Year for four consecutive years. Updates to this engine for the Roma include Variable Boost Management, new bypass valves, and the removal of silencers to allow you to revel in the throaty roar of this Prancing Horse.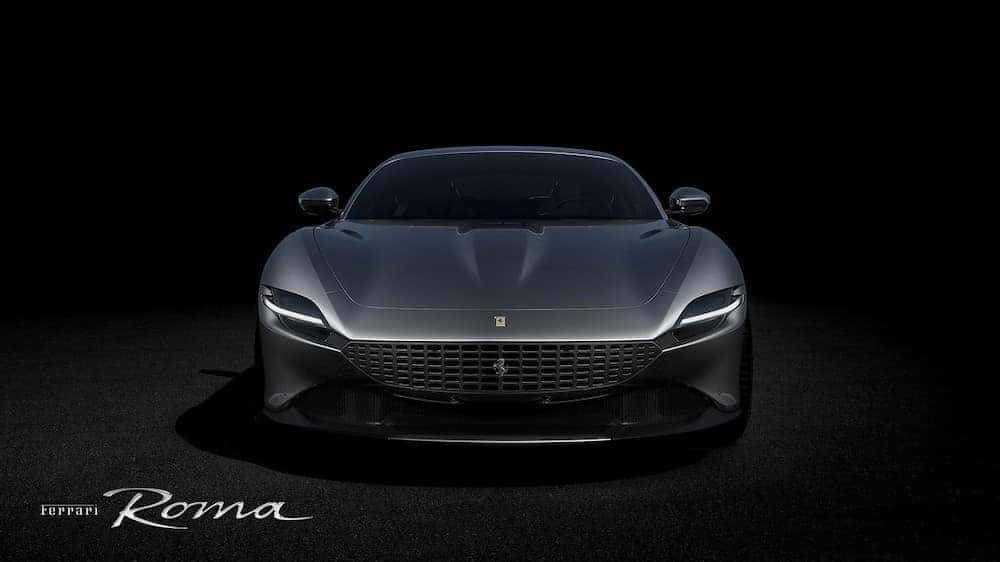 Aerodynamics
While the Roma is designed for elegance over raw technical aerodynamics, the car's clean lines and attractive curves still boast the aerodynamic efficiency that we all expect of a Prancing Horse. The star of the aerodynamic show is the mobile rear spoiler. When retracted, the spoiler accentuates the clean lines of the Roma; when it automatically deploys at high speeds, it actively increases downforce. The rear spoiler is complemented by a pair of vortex generators that create ground effect and manage the wake of the front wheels to ensure efficient load management.
Interior
The Ferrari Roma's interior combines elegance and luxury, resulting in a car like nothing else on the roads of Indianapolis or Milwaukee. The symmetrical interior represents an evolution of the Dual Cockpit concept. Everything is designed to marry both form and function within the space, for a cabin that's as intuitive as it is elegant. A new infotainment system and center stack layout further add to the easy functionality of the Roma.
Inquire About Buying a Ferrari Roma With Continental AutoSports Ferrari
The Ferrari Roma is an exciting new model that's designed in part for drivers who are intimidated by supercars — but it still offers white-knuckle performance for those who wish to take advantage! Interestingly, this model is set to share its platform with the upcoming Ferrari Purosangue SUV. To inquire about purchasing a Roma of your own, contact Continental AutoSports Ferrari — we're based in Chicagoland, but we proudly serve enthusiasts throughout the United States!
More About Ferrari Models
Something can be considered good, great even, but at Ferrari, we don't strive to settle for great. We're always working to improve our vehicles and reach new peaks of never before seen technology and unmatched performance. And that's all come together in the very first road-legal XX car: the 2025 Ferrari SF90 XX Stradale. Which, luckily for Hinsdale drivers, is also available in the SF90 XX Spider version as well. Browsw New Ferrari Models Contact Us Not One But Two: SF90 XX Stradale and SF90 XX Spider There is not an inch of this vehicle, in either model, that doesn't…

When you're looking to buy a luxury vehicle for those Chicago cruises, you want it to look amazing inside and out, which is why color is important. On the outside, the exterior Ferrari Purosangue paint colors and body styling ensure that you'll start a conversation at every destination. The Ferrari Purosangue interior colors are a direct reflection of the modern design and structure of the Purosangue, which — fun fact — is actually modeled after the SF90! Not only do you get a comfortable SUV, but you also get the high-performance look to boot! In our guide below, you can…

Each year, the invite-only Ferrari Cavalcade sets out to awe spectators and reward passionate Ferrari owners and enthusiasts with an ultra-exclusive treat. This year was no exception, with over 80 stunning Ferrari models piloting across a 1,000 km route that navigated scenic deserts and coastlines in this grand affair. Essaouira, Morocco, played a prominent role, with the "City of Wind" serving as an ideal host for the artistry that is a Prancing Horse procession. Read on through our Ferrari research guide below to take a closer look at the exemplary 2023 Ferrari Cavalcade. Ferrari Roma Spider Unveiled More Ferrari Research…