Introducing the Ferrari Roma Spider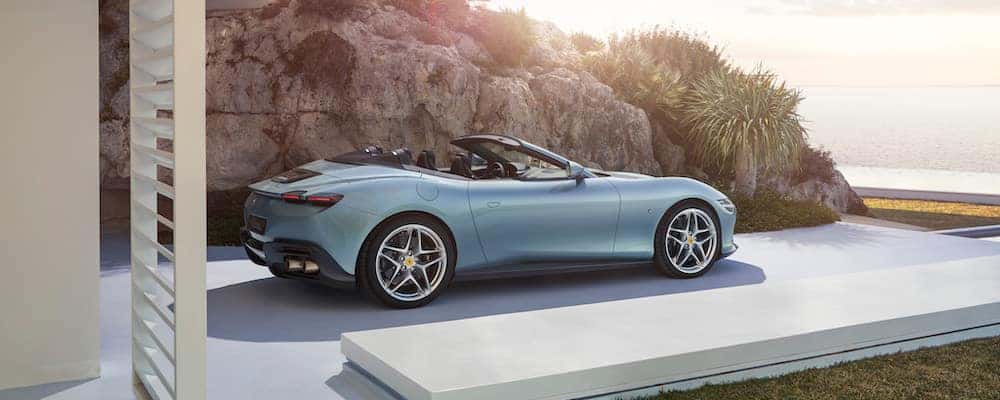 For the first time in over 50 years, Ferrari has unveiled a soft-top, front-engine model. The design of this drop-top harkens back to the days of opulence and grandeur that marked Italian lifestyle in the 1950s and 1960s. While the new Ferrari Roma Spider embodies old-world charm and characteristics, this front-engined Prancing Horse is built with modern conveniences and capabilities to suit your most exciting Chicago drives. In our guide, we'll provide you with everything you need to know regarding the Ferrari Roma Spider release date, specs, features, and more.
Ferrari Roma Spider Specs
Style and sophistication are central to the mission of the Prancing Horse, but the true aim is unrelenting performance. The Ferrari Roma Spider is no exception, delivering chart-topping capabilities designed to raise your pulse as you traverse the Indianapolis streets. What exactly is this GT capable of when put in drive? Review the Ferrari Roma Spider specs here:
Turbocharged 3.9L V8 engine
612 hp
561 lb-ft of torque
Eight-speed dual-clutch automatic transmission
Rear-wheel drive
Ferrari Roma Spider Features
The technical Ferrari Roma Spider specs are truly a wonder to behold. That said, the features and amenities equipped on this ride are worthy of a prominent place in any highlight reel. The Ferrari Roma Spider features find a headline in the stunning soft top that folds neatly behind the rear seats. If you desire an open-air driving experience, you can drop the top of the Ferrari Roma Spider in just 13.5 seconds, and for an added flourish, you can fold the top down while traveling at 37 mph or under.
Of course, you'll find silky-smooth leathers and sophisticated finishes throughout the cabin of this Prancing Horse, offering a more elegant travel experience for all. Your infotainment favorites will be at your fingertips, with an 8.4-inch vertical display and Apple CarPlay®/Android Auto™ integration. You'll find added comfort with built-in neck warmers and 18-way power-adjustable heated seats.
Ferrari Roma Spider Release Date
With the enchanting capabilities of the Ferrari Roma Spider front of mind, a natural curiosity about when this model goes on sale arises. While the official Ferrari Roma Spider release date has not been announced, the expectation is that this vehicle will be introduced as a 2024 model. If you're interested in being among the first to hit the Milwaukee streets in a new Ferrari Roma Spider, you can work directly with Continental AutoSports Ferrari to plan your purchase.
Discover the Ferrari Roma Spider with Continental AutoSports Ferrari
If the Ferrari Roma Spider features, specs, and amenities have you eager to get behind the wheel, you undoubtedly have a refined automotive palette. The experts at Continental AutoSports Ferrari in Hinsdale are here to help you make your dream purchase a reality. Get in touch with us to stay up to date on the Ferrari Roma Spider release date and news.
More From Continental AutoSports Ferrari
Something can be considered good, great even, but at Ferrari, we don't strive to settle for great. We're always working to improve our vehicles and reach new peaks of never before seen technology and unmatched performance. And that's all come together in the very first road-legal XX car: the 2025 Ferrari SF90 XX Stradale. Which, luckily for Hinsdale drivers, is also available in the SF90 XX Spider version as well. Browsw New Ferrari Models Contact Us Not One But Two: SF90 XX Stradale and SF90 XX Spider There is not an inch of this vehicle, in either model, that doesn't…

After more than 50 years, Ferrari has returned to the 24 Hours of Le Mans, and what a way to make history on the event's 100th anniversary! Not only did Ferrari compete in this grueling and prestigious race, but the team came back victorious with a win led by Alessandro Pier Guidi and his teammates that shared the number 51 car: James Calado and Antonio Giovinazzi. This race is a symbol of endurance and persistence and the Ferrari Le Mans drivers showed up with all that and more in this exciting competition where drivers and vehicles alike, were tested for…

On the 7th of May 2023, down in Miami, the Grand Prix was held. Over the weekend, Ferrari's F1 drivers fought their hardest out on the track and put their blood, sweat, and tears into the race. Carlos Sainz walked away with fifth place while his fellow Ferrari driver, Charles Leclerc, ended up in seventh place. Unfortunately, the race didn't exactly end how either driver was hoping, but they resolve to continue working hard for the next races for a spot on the podium. Formula 1 and Ferrari More Ferrari News Timeline of the 2023 Miami Grand Prix At the…