The Ferrari 7-Year Maintenance Program

The Ferrari Genuine Maintenance Program is included with all new regular production Ferrari vehicles made during or after model-year 2015—and that means your first seven years of scheduled routine maintenance are covered, free of charge!
Taking advantage of this comprehensive Ferrari maintenance program ensures that your vehicle will continue to deliver astounding, invigorating performance year after year, and you can always rely on Chicagoland's Continental AutoSports Ferrari for your Ferrari service needs.
---
What's Included with Ferrari Genuine Maintenance?
There's no substitute for Ferrari Genuine Service, and what's more, owners can only benefit from the Ferrari 7-Year Maintenance Program at authorized service centers like our own! Wondering what to expect from your upcoming appointments? Here's a closer look at what's covered:
Ferrari Genuine Maintenance coverage entitles you to one complimentary annual visit.
During this visit, each of the following are covered: labor, original replacement parts, lubricants, engine oil, and brake fluid.
All Ferrari Genuine Maintenance services are carried out by an expert who has been certified by the Ferrari Training Center in Maranello. As a result, you'll benefit from expertise that no third-party or independent service center can match.
No other global manufacturer offers a program that can compare to Ferrari Genuine Maintenance. If you'd like to learn more about the Ferrari warranty or the services we provide, don't hesitate to contact us today.
---
Which Vehicles Are Eligible for the Ferrari Maintenance Program?
Does Ferrari offer free maintenance? As you've seen, the answer is yes—except where special, limited-production Ferrari models are concerned.
Before you order a new Ferrari of your own, keep in mind that the Ferrari 7-year maintenance program is complimentary with each of the following vehicles:
Ferrari 296 GTB
SF90 Spider
812 GTS
SF90 Stradale
F8 Tributo
F8 Spider
Roma
Portofino M
812 Superfast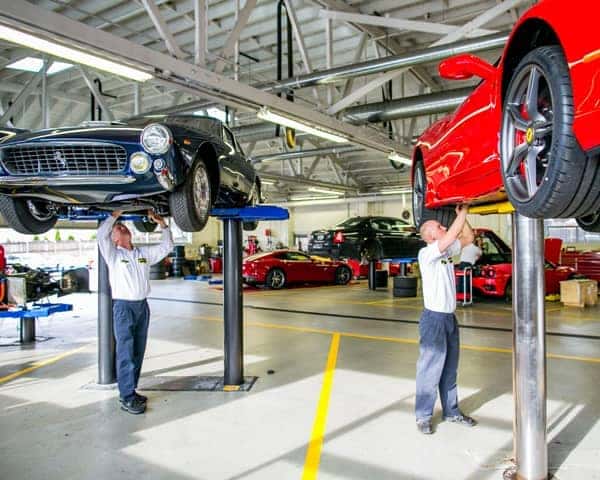 ---
Is Ferrari 7-Year Maintenance Transferable?
When you purchase a new Ferrari, your required scheduled maintenance is complimentary—but is Ferrari 7-year maintenance transferable to a second owner? Here as well, the answer is yes! The Ferrari Maintenance Program follows the car, and transfers directly to whomever takes possession of the vehicle.
For the sake of clarity, it's worth noting that coverage carries over with all of the following models:
California T
F12berlinetta
TDF
FF
458 Spider
458 Italia
458 Speciale
GTC4Lusso
GTC4Lusso T
488 GTB

488 Spider
488 Pista
Portofino
812 Superfast
812 GTS
SF90 Stradale
F8 Tributo
F8 Spider
Roma
---
Schedule Service at Continental AutoSports Ferrari
For rapid, trustworthy Ferrari maintenance in Chicagoland, you can always rely on Continental AutoSports Ferrari. It's easy to schedule service online and benefit from our unparalleled expertise.
More From Continental AutoSports Ferrari
Few experiences match that of putting the Ferrari 360 in drive. The raucous hum of the V8 engine produces an enchanting roar and top speeds of over 180 miles per hour that will delicately raise the pulse of even the most experienced of drivers. Offered with your choice of Spider (convertible) or Berlinetta (coupe) bodywork, you'll be certain to turn heads and drop jaws when you take to the Indianapolis streets in your Ferrari 360. While the scorching engine and exceptional good looks of this supercar are enough to convince any discerning driver to buy, the Ferrari 360 interior keeps…

The unveiling of Ferrari Purosangue brings plenty of reasons to celebrate. After all, it isn't every day that Maranello unveils an all-new vehicle with a naturally-aspirated 6.5-liter V12 engine. Explore the factors that set this model apart with our comprehensive guide to the Ferrari Purosangue specs—and then stop in to experience its unmistakable roar first-hand. Preview Interior Compare to Lamborghini Urus Ferrari Purosangue Engine Although Ferrari is in the process of electrifying its lineup, it doesn't have any plans to phase out internal combustion engines completely. The Purosangue's interior design may be pushing the Italian automaker in exciting new directions,…

Ferrari's race cars and production cars have always been in intimate dialogue with one another, and the latest effort from the Prancing Horse's Competizioni GT team is a case in point. The Ferrari 296 GT3 is an incredible development in the racing segment that has always been closest to the manufacturer's heart. This Ferrari race car's design picks up where the 296 GTB leaves off—but the GT3 achieves a lower center of gravity with a unique 120-degree V6 configuration, which houses the turbochargers within the mid-rear-mounted V. The aluminum frame and braking system are likewise all-new. Although the 296…