How Often Do Ferraris Need to Be Serviced?

While the precise maintenance schedule will vary by model, you should generally have your Ferrari serviced or at least inspected every year. Ferraris are world-class, precision-built vehicles, and achieving incredible performance is dependent on all aspects of the vehicle being in perfect working order. Therefore, yearly inspections and preventative maintenance are vital — not only for getting the most out of your Prancing Horse, but also for maintaining its resale value.
---
Ferrari Maintenance Schedule
Different models will have maintenance plans, but a typical Ferrari maintenance schedule will look like this:
Year 1: Replace the engine oil and oil filter, flush brake fluid and bleed calipers, and replace the in-cabin air filter. Check gear oil and hydraulic fluid, topping off fluids as necessary. Check for leaks. Check all indicator lights. Conduct a visual inspection of the brake pads and discs. Inspect the parking brake system and perform a component check on the front and rear suspension. Finally, your Ferrari will be road tested to ensure everything is in good working order.
Year 2: A repeat of all first-year checks, plus auxiliary belt replacement, engine inspection, and checking the tightness of gearbox mounting fasteners.
Year 4: A repeat of all second-year checks, plus the replacement of spark plugs and another auxiliary belt replacement.
Generally, this maintenance schedule will need to be repeated for the life of the vehicle. Annual or even seasonal inspections outside of a given Ferrari's prescribed maintenance schedule are also highly recommended. It's important to note that service intervals will vary depending on miles driven as well. Additionally, some models require additional maintenance procedures; for instance, the F355 generally requires engine-out service every five years.
Since every new Ferrari warranty includes 7 years of maintenance, there's no reason to neglect maintaining your vehicle — especially since this warranty coverage is tied to the vehicle and not the owner.
---
Where to Get Genuine Ferrari Maintenance
Ferrari-trained technicians are the only ones who can reliably keep your Prancing Horse in top condition and maintain its resale value. These experts have been specially trained to repair and maintain these carefully constructed vehicles, and their fanatic attention to detail shines through in the performance of the Ferrari cars they service.
Continental AutoSports Ferrari boasts three Ferrari Master Technicians — the best of the best, in other words. You won't find anyone better at providing genuine maintenance to the full range of Ferrari models!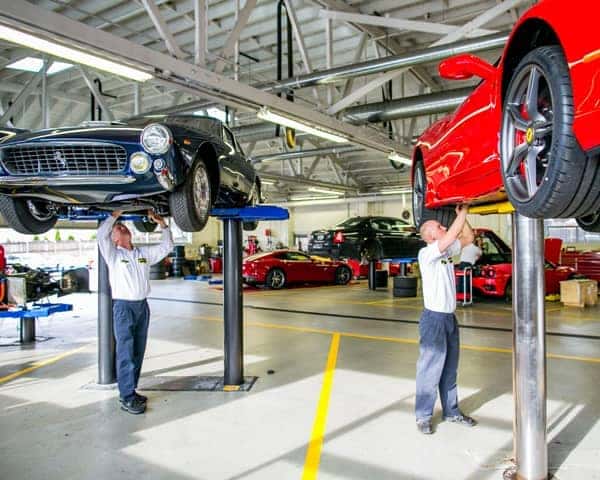 ---
Get Your Ferrari Serviced at Continental AutoSports Ferrari
Ferrari owners rightly expect the best — and to continue getting the best out of every Prancing Horse, keeping up with your Ferrari's maintenance schedule is crucial. So don't wait: schedule Ferrari service in the Chicago area today, and we'll ensure that your Prancing Horse will continue to perform. In the meantime, contact Continental AutoSports Ferrari with any questions!
More From Continental AutoSports Ferrari
Few experiences match that of putting the Ferrari 360 in drive. The raucous hum of the V8 engine produces an enchanting roar and top speeds of over 180 miles per hour that will delicately raise the pulse of even the most experienced of drivers. Offered with your choice of Spider (convertible) or Berlinetta (coupe) bodywork, you'll be certain to turn heads and drop jaws when you take to the Indianapolis streets in your Ferrari 360. While the scorching engine and exceptional good looks of this supercar are enough to convince any discerning driver to buy, the Ferrari 360 interior keeps…

The unveiling of Ferrari Purosangue brings plenty of reasons to celebrate. After all, it isn't every day that Maranello unveils an all-new vehicle with a naturally-aspirated 6.5-liter V12 engine. Explore the factors that set this model apart with our comprehensive guide to the Ferrari Purosangue specs—and then stop in to experience its unmistakable roar first-hand. Preview Interior Compare to Lamborghini Urus Ferrari Purosangue Engine Although Ferrari is in the process of electrifying its lineup, it doesn't have any plans to phase out internal combustion engines completely. The Purosangue's interior design may be pushing the Italian automaker in exciting new directions,…

Ferrari's race cars and production cars have always been in intimate dialogue with one another, and the latest effort from the Prancing Horse's Competizioni GT team is a case in point. The Ferrari 296 GT3 is an incredible development in the racing segment that has always been closest to the manufacturer's heart. This Ferrari race car's design picks up where the 296 GTB leaves off—but the GT3 achieves a lower center of gravity with a unique 120-degree V6 configuration, which houses the turbochargers within the mid-rear-mounted V. The aluminum frame and braking system are likewise all-new. Although the 296…