Who Was Enzo Ferrari?

In 1898, a legend was born: Enzo Anselmo Giuseppe Maria Ferrari would go on to become a race car driver and a stunningly successful entrepreneur who founded one of the most iconic and successful supercar manufacturers the world has ever seen. Known during his life as il Commendatore (the Commander) and l'Ingegnere (the Engineer), Enzo Ferrari's contributions to driving enthusiasts the world over cannot be overstated.
Racing Career
Enzo Ferrari received little in the way of formal education, but his love of vehicles and racing was said to be inspired by the 1908 Circuito di Bologna, where he witnessed Felice Nazarro's victory at the age of 10.
Il Commendatore's entrance into the world of racing was not the storybook tale that one might expect. He served in World War I before being discharged after falling ill, and his family's carpentry business failed, forcing him to seek employment. It was this need to find a job that served as his point of entry: he found employment as a test driver with a Milan-based car manufacturer called Costruzioni Meccaniche Nazionali (or CMN), and was soon promoted to race car driver. Enzo Ferrari's racing debut occurred at the 1919 Parma-Poggio di Berceto hillclimb race — and while he only placed fourth in the competition, his star was very much on the rise.
Enzo Ferrari saw most of his racing success between 1920 and 1924 — including a win at the Coppa Acerbo at Pescara — on Alfa Romeo's racing team, though his racing career continued until 1932.
---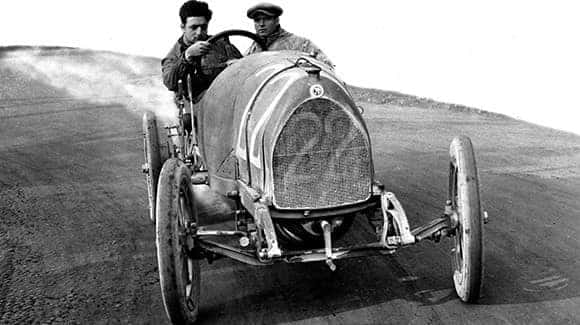 ---
Creating the Ferrari Brand
After that, he moved into management and development at Alfa Romeo, where he assembled a team of successful drivers under the name Scuderia Ferrari. L'Ingegnere left Alfa Romeo in 1939 and founded a company called Auto-Avio Costruzioni that supplied parts to racing teams. After World War II ended, Enzo Ferrari chose to begin making new cars instead of merely supplying parts, and moved his company's operations from Modena to Maranello, where it continues operations to this day.
Ferrari's own racing team debuted in 1948 and earned its first victory the same year. In 1949, the team earned a win at 1949 24 Hours of Le Mans, and 1950 saw Ferrari's enrollment in Formula 1 — and it remains the only brand to be present in F1 from the beginning. The decades that followed saw many more victories and the introduction of some of the most iconic vehicles the world has ever known.
It's only fitting that less than 20 years after Enzo Ferrari's death in 1988, the now-iconic supercar maker introduced a vehicle bearing its legendary founder's name.
---
---
The Ferrari Enzo
The Prancing Horse brand introduced the Ferrari Enzo in 2002, and features fittingly race-focused technology such as carbon fiber body, an electrohydraulic shift transmission, and ceramic composite disc brakes. The aerodynamics of the car show a clear Formula 1 influence, and all aspects of its engineering reflect the fact that the Enzo Ferrari car was created to dominate the track. The Ferrari Enzo top speed is an incredible 218 mph.
Only 400 of these Enzo Ferrari-inspired cars were produced, making it a hotly sought-after collectible model.
Learn More With Continental AutoSports Ferrari
The Prancing Horse stands today as an iconic racing name and a collection of world-class supercars that are the envy of drivers throughout the world. Whether you live in Indianapolis, Milwaukee, or elsewhere, owning a Ferrari is a dream for any driving enthusiast. If you'd like to explore buying your own Ferrari, you can get started by contacting Continental AutoSports Ferrari or paying us a visit near Chicago.
More From Continental AutoSports Ferrari
What is the Ferrari KC23? Well, it's nothing more than the newest installment to the highly spectacular Ferrari lineup. Any true Ferrari follower would instantly recognize the seamless blend of Ferrari's Vision Gran Turismo concept and its Le Mans winning 499P that come together to make this vehicle. If you're a lover of all things bespoke, this may just be the car for you and your Hinsdale and Milwaukee drives! Browse More Ferrari InformationContact Us Ferrari KC23: Notable Features and Highlights While there's not much that we can tell you about the Ferrari KC23 engine specs and…

Only one thing is more thrilling than joining a race and experiencing the excitement of competing out on the track, winning. Second is great, but a manufacturer like Ferrari isn't satisfied until they're on the top step of the podium. Curious to know more about what happened at the race? Take a look below and we'll fill you in on all the hot details. New Ferrari ModelsContact Us Scuderia Ferrari For the Win Even though it's not number one, the Ferrari drivers should be filled with nothing but pride for their thrilling performance at the 6 Hours of…

Something can be considered good, great even, but at Ferrari, we don't strive to settle for great. We're always working to improve our vehicles and reach new peaks of never before seen technology and unmatched performance. And that's all come together in the very first road-legal XX car: the 2025 Ferrari SF90 XX Stradale. Which, luckily for Hinsdale drivers, is also available in the SF90 XX Spider version as well. Browsw New Ferrari Models Contact Us Not One But Two: SF90 XX Stradale and SF90 XX Spider There is not an inch of this vehicle, in either model, that doesn't…