Why is Ferrari Morgan Stanley's Favorite EV Stock?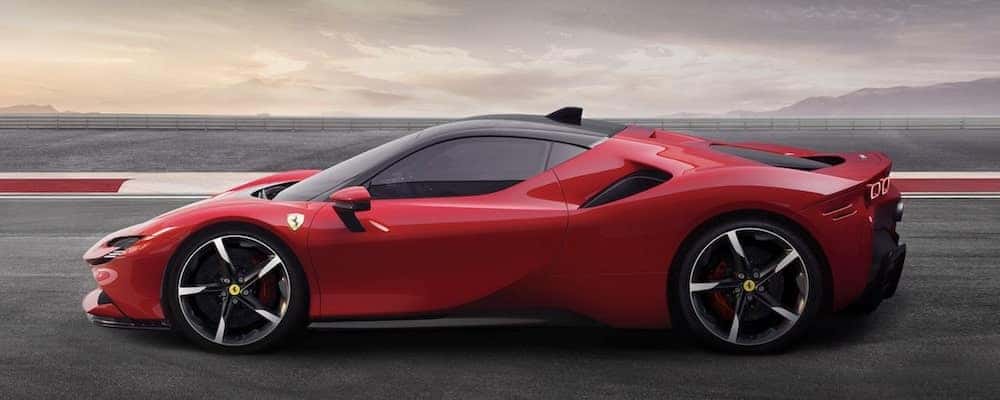 Adam Jonas, a representative of Morgan Stanley, recently described Ferrari as his favorite EV stock! The news came just as Tesla's stock was beginning to reach new highs, and since Ferrari will not unveil their first fully-electric vehicle until 2025, the assertion has captured the attention of drivers all across Chicagoland. What is it about Ferrari that makes a major institution like Morgan Stanley so confident? Here, we've highlighted five of the reasons why Ferrari electric cars will define the future of this market.
5 Reasons Why Ferrari Electric Cars Are the Future
Concrete Plans: In 2020, Ferrari filed several patents related to a two-seat, four-motor electric vehicle. Given the Prancing Horse's track record for innovative, record-setting performance—and their current lineup of record-setting plug-in hybrid vehicles—it's easy to see why Chicagoland's enthusiasts would start to get excited about this mysterious EV's potential.
Luxury Dominance: Luxury buyers will be some of the most committed adopters of electric vehicles, and Ferrari wields massive power in this marketplace. The all-new Ferrari electric car is expected to arrive with a starting price of roughly $400,000—setting a trend that many in this space are sure to follow.
Rapid Market Shift: Morgan Stanley expects that, by 2030, 30% of Ferrari's sales will be electric vehicles. This relatively rapid transition reflects the legacy carmaker's commitment to the future. Ferrari sold roughly 9,100 vehicles in 2020, so they only need to sell around 3,000 EVs per year by 2030 in order to meet or exceed investor expectations.
Capital Access: Unlike many upstart manufacturers, Ferrari has access to massive streams of capital—and that means they can actually reach their ambitious goals! Jonas expects that most of their planned 13 billion in capital expenditures will be devoted to EVs. A well-developed infrastructure allows Ferrari to make changes and developments more quickly than other EV makers.
Buyer Interest: Buyers are more interested in Ferrari than ever before, and we have every reason to suspect that this trend will carry over as the brand starts to produce more electric vehicles. The Prancing Horse's stock has risen more than 330% since its NYSE debut in 2015, and recent years have seen record-setting orders for the fabled Italian manufacturer.
If you're already eager to experience life behind the wheel of a Ferrari EV, you should know that we can help you commission and order your new Ferrari as soon as this promised model becomes available!
Ferrari vs. Tesla
Although Ferrari does not currently offer an electric vehicle, they do offer a number of vehicles with potent, plug-in hybrid powertrains—and those who are paying attention can't help but look to the future. Enthusiasts from Milwaukee to Indianapolis are all wondering how these two brands will face off in the years to come, and we've highlighted three reasons why those comparing Ferrari vs. Tesla would be wise to favor the Prancing Horse:
Luxury & Quality: Although Tesla has made a big splash, the brand's vehicles suffer where interior quality and luxury are concerned. Although the hype that surrounds Tesla might appeal to some buyers, you really can't compare Tesla's models to those produced by Ferrari. Only the latter vehicles offer the level of prestige that buyers in this space can recognize and desire.
Determination & Staying Power: It's easy to make bold moves as a startup company—but if you want to go far, you need to build on a real legacy. Ferrari has never relied on cheap tricks, gimmicks, or passing trends in order to win short-lived applause, and they've proven that they have the know-how to survive and thrive through all manner of market shifts. That kind of experience will be invaluable in the brave new world of EVs.
A History of Performance: Tesla eschews everything that drivers have loved about traditional, gas-powered vehicles. Although that kind of attention-grabbing gesture has its strengths, true performance enthusiasts will want to retain some connection to the glory days of racing that made the automotive world what it is today—and no one is better poised to carry this connection into the future than Ferrari.
Experience the Future of EVs with Continental AutoSports Ferrari
If you'd like to learn more about Ferrari's current plans for the future, don't hesitate to contact our team and request information! And if you'd like to stay up to date with the latest news and information on Ferrari electric cars, you can follow our blog today.
More From Continental AutoSports Ferrari
The unveiling of Ferrari Purosangue brings plenty of reasons to celebrate. After all, it isn't every day that Maranello unveils an all-new vehicle with a naturally-aspirated 6.5-liter V12 engine. Explore the factors that set this model apart with our comprehensive guide to the Ferrari Purosangue specs—and then stop in to experience its unmistakable roar first-hand. Preview Interior Compare to Lamborghini Urus Ferrari Purosangue Engine Although Ferrari is in the process of electrifying its lineup, it doesn't have any plans to phase out internal combustion engines completely. The Purosangue's interior design may be pushing the Italian automaker in exciting new directions,…

Ferrari's race cars and production cars have always been in intimate dialogue with one another, and the latest effort from the Prancing Horse's Competizioni GT team is a case in point. The Ferrari 296 GT3 is an incredible development in the racing segment that has always been closest to the manufacturer's heart. This Ferrari race car's design picks up where the 296 GTB leaves off—but the GT3 achieves a lower center of gravity with a unique 120-degree V6 configuration, which houses the turbochargers within the mid-rear-mounted V. The aluminum frame and braking system are likewise all-new. Although the 296…

Relatively little is known about the vehicle that Ferrari will enter into next year's 24-hour endurance race at Le Mans, referred to as the Ferrari 499P, but its full debut is right around the corner. It's been 50 years since the Prancing Horse's last entry as a works team into the race's top category, so enthusiasts everywhere are understandably waiting at the edges of their seats for clear details. Here's what we know so far: What is a Hypercar? Ferrari Returns to Le Mans 499P: A Genuine Ferrari —Hypercar The "Le Mans Hypercar" (or LMH) category replaces the LMP1 class,…