Ferrari F8 Tributo Specs and Engine Details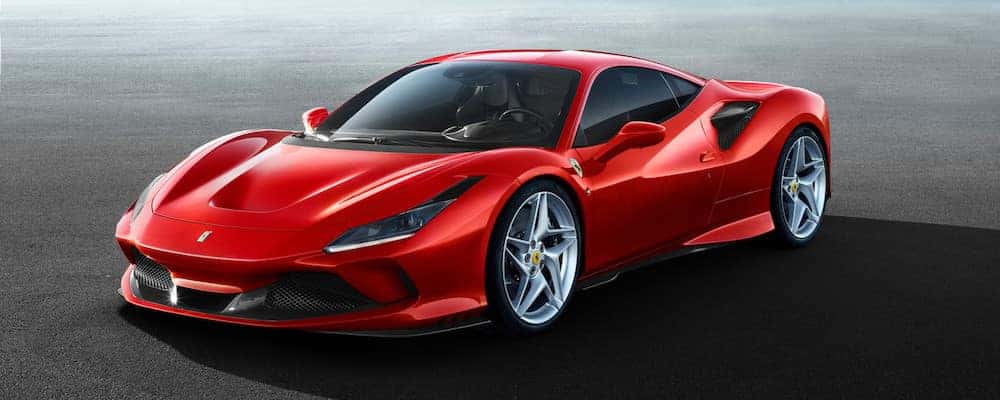 The Ferrari F8 Tributo's specs make it clear: this model is not just an evocatively styled work of automotive art, it's also a genuine powerhouse on the track. Driving it is a thrill, even on a normal highway between Chicago and Indianapolis, but we think you'll appreciate it even more when you take a look at the numbers beyond the white-knuckle thrills.
F8 Tributo Output
Engine: 3.9L twin-turbocharged V8
Transmission: 7-Speed dual-clutch transmission
Horsepower: 710 horsepower
Torque: 568 lb-ft of torque
The engine output of the F8 Tributo matches the 488 Pista and offers 50 hp more than the outgoing 488 GTB. Add in the fact that it has zero turbo lag, and it's not surprising to see the praise this mid-engined Prancing Horse has been getting. Have we mentioned that it's the most powerful V8-equipped non-special series Ferrari that's been produced?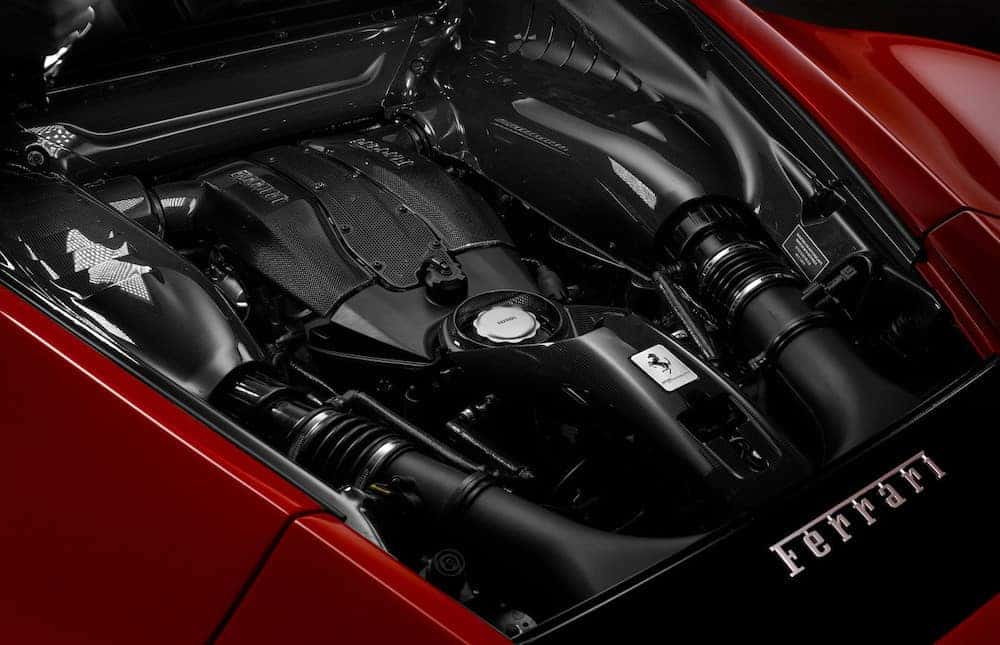 F8 Tributo Top Speed
Top Speed: 211 mph
0 – 62 mph: 2.9 seconds
0 – 124 mph: 7.8 seconds
The impressive twin-turbo V8 makes itself immediately apparent when you jump off the line. It doesn't only impress on the track, though: it's just as thrilling on the road. Expect rapid, smooth upshifts and the ability to execute hairpin turns with ease, and Ferrari's Side Slip Angle Control traction- and stability-control program will help you remain in control of the considerable power at your fingertips.
F8 Tributo Aerodynamics
It's fitting that the F8's name literally means "tribute." Not only does it hearken to earlier models — with an unmistakable resemblance to the 488 GTB and a louvered rear window reminiscent of the F40 — its carbon fiber bodywork also boasts practical aerodynamic benefits to make the most of its powertrain. Beyond the sculpted bodywork, there are several other aerodynamic factors at play in this Prancing Horse, including:
Front Air Intakes: Compact LED headlights allow for brake-cooling air intakes that facilitate airflow throughout the wheel arch.
S-Duct: The S-Duct deflects high pressure flow upwards through the vent on the car's bonnet. A redesign of this feature for the F8 Tributo has resulted in a 15% increase in downforce compared to the 488 GTB.
Side Air Intakes: The new front radiator layout places the radiator packs tilted rearward, improving management of cooling airflow.
Inquire Today With Continental AutoSports Ferrari
The specs of the Ferrari F8 Tributo are impressive, but the only way to truly appreciate it is to spend some time behind the wheel. If you're interested in buying a Ferrari, contact Continental AutoSports Ferrari to inquire. Even though we're based in the Chicago area, we're happy to help anyone looking to buy a Ferrari, from Milwaukee to the rest of the United States.
More About Ferrari Models
What is the Ferrari KC23? Well, it's nothing more than the newest installment to the highly spectacular Ferrari lineup. Any true Ferrari follower would instantly recognize the seamless blend of Ferrari's Vision Gran Turismo concept and its Le Mans winning 499P that come together to make this vehicle. If you're a lover of all things bespoke, this may just be the car for you and your Hinsdale and Milwaukee drives! Browse More Ferrari InformationContact Us Ferrari KC23: Notable Features and Highlights While there's not much that we can tell you about the Ferrari KC23 engine specs and…

Only one thing is more thrilling than joining a race and experiencing the excitement of competing out on the track, winning. Second is great, but a manufacturer like Ferrari isn't satisfied until they're on the top step of the podium. Curious to know more about what happened at the race? Take a look below and we'll fill you in on all the hot details. New Ferrari ModelsContact Us Scuderia Ferrari For the Win Even though it's not number one, the Ferrari drivers should be filled with nothing but pride for their thrilling performance at the 6 Hours of…

Something can be considered good, great even, but at Ferrari, we don't strive to settle for great. We're always working to improve our vehicles and reach new peaks of never before seen technology and unmatched performance. And that's all come together in the very first road-legal XX car: the 2025 Ferrari SF90 XX Stradale. Which, luckily for Hinsdale drivers, is also available in the SF90 XX Spider version as well. Browsw New Ferrari Models Contact Us Not One But Two: SF90 XX Stradale and SF90 XX Spider There is not an inch of this vehicle, in either model, that doesn't…